Japanese viewers are drinking in a new TV drama that tells the story of the founding family of Japanese whisky, recently recognized as the best in the world, surpassing even the legendary single malts of Scotland.
Massan tells a fictionalized version of Masataka Taketsuru's journey to Scotland in 1918, where he learned how to make whisky at several distilleries while also studying organic chemistry at the University of Glasgow. In keeping with Japan's Asadora genre—which shows 15-minute episodes at 8am that are targeted at housewives—the show has a major role for Taketsuru's Scottish wife, Rita, who returned with him to Japan.
The show's stellar ratings have been helped in part by the casting of the American actress Charlotte Kate Fox to play "the mother of Japanese whisky," making her the first non-Japanese woman to star in one of NHK's morning dramas. Producers have taken certain liberties, such as changing Rita's name to Ellie and making her a blonde. The plot of the show has revolved around Ellie's clashes with her Japanese mother-in-law and her husband's jilted fiancée.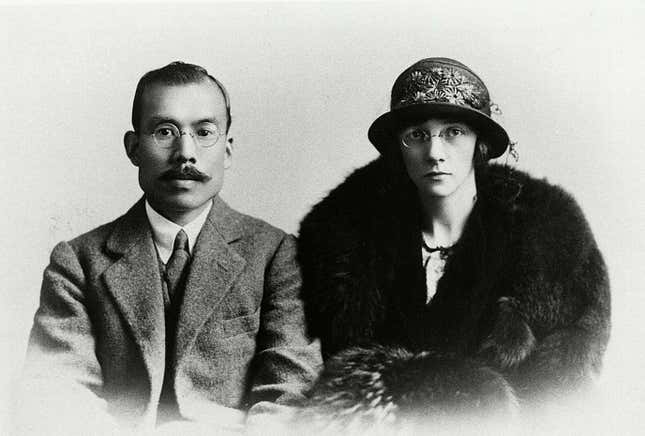 In real life, Taketsuru returned to Japan in 1923 to join the drinks company Kotobukiya, now known as Suntory, and helped to establish its whisky distillery. Suntory—well known in the West thanks to Bill Murray's fictional ads from the film Lost in Translation—earlier this year purchased the famous US spirits company Beam Inc, which makes Jim Beam and Maker's Mark bourbon.
Suntory now makes a range of whiskys including Yamazaki Single Malt Sherry Cask 2013, which was recently named World Whisky of the Year by the magazine Whisky Bible, the first Japanese whisky to win the award. Taketsuru later went on to found the Nikka distillery, which also makes a range of well-reviewed spirits.
Much like the US period drama Mad Men, which is credited with helping to revive retro cocktails like the Old Fashioned, Massan is boosting consumption of whisky in Japan. Since the show started airing in September, Nikka's domestic whiskey sales are up 50% from the same period last year, according to the Yomiuri Shimbun newspaper. Suntory and Nikka are both launching limited-edition vintages aimed at Massan viewers—especially since whisky, consumed mostly in the form of highballs, has been seen mostly as drink for men.
"We hope to make women more familiar with domestic whisky to keep this boom alive," a spokesman for Asahi, which owns Nikka, told the Yomiuri Shimbun. And who better than the mother of Japanese whisky to convince them?