In the 12 weeks leading to Oct. 31, Apple sold more iPhones in the US than all other phone makers sold smartphones running Google's competing Android operating system. But a dig into the numbers shows that Apple almost certainly can't sustain this lead.
Apple's share of smartphone sales in the US was 48.1% to Android's 46.7%. That's quite a departure from Android's performance in the previous quarter, 63.3% of all smartphone sales in the US.
What happened: The iPhone 5
Apple sold 5 million iPhone 5s in the first weekend after launch alone. The last time Apple out-sold Android in the US, it had just launched the iPhone 4S. Apple's new device launches are still milestone events for the technology world. They make demand for smartphones ebb when consumers know a new launch is on the way. Quite a lot of potential Android phone buyers are likely to have held off getting a new phone while they waited to see what the iPhone 5 was like. Now that moment is past, which means Android sales are likely to overtake Apple's again.
Worldwide, it's a different story
In any case, Apple's sales figures in the US are but a blip in a larger global narrative: The seemingly unstoppable rise of Android. Just look at these figures for the third quarter of 2012 compared to a year earlier.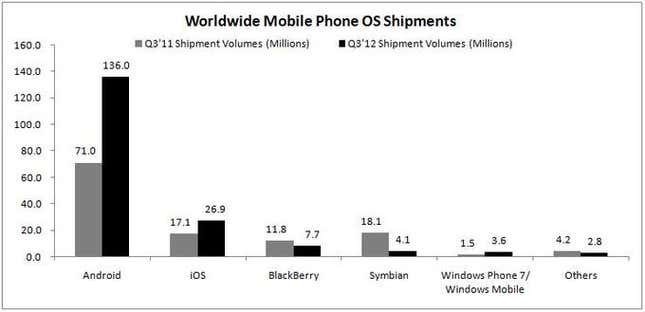 Much of this gain in market share—Android is now on 75% of all new smartphones shipped—represents gains against more primitive "feature phones." In other words, members of the world's rising middle class are upgrading to their first smartphones.
This quarter, Android has a 64% share of sales in the top 5 European markets. The iPhone 5 is basically tied with Samsung's Android-based Galaxy S3 for the title of best-selling smartphone of all time, but the S3 is only the most popular of countless Android-based handsets.
In China, Android handsets were 67.5% of sales to iPhone's 20%. Both operating systems could make big gains in China, India and other emerging markets, but Apple is essentially running up against the limits of its ability to make and ship new models fast enough. That suggests Apple's share of sales would be even higher if it could satisfy 100% of demand.
Apple's lock on an existing market
Even as Android continues to gain an ever-larger share of the total number of handsets in use worldwide (which, it should be noted, is different from the percentage of sales) there is some evidence that, especially in the US, unsatisfied Android users continue to switch to the iPhone, with 13% of iPhone 5s replacing an Android handset. On the other hand, 92% of iPhone users say their next phone will also be an iPhone.
However, despite the fact that Android phones outstrip iPhones in sheer quantity, 77% of mobile web traffic comes from iPhones. This so-called "engagement gap" between iPhone and Android users suggests one of (or a mix of) two things: either Android phones aren't as easy to use as their iPhone cousins, or people with iPhones simply spend more time browsing the web from their phones (perhaps because they are more likely to be experienced "power users", while a larger share of Android owners have only just started using a smartphone).
In any event, the world is bifurcating. A large mass of people are ditching their old "feature phones" for Android smartphones, while a smaller group join the Apple fold. But though they are fewer, those Apple users remain, for now at least,  demonstrably committed to the platform.