In 2014, Elon Musk evolved from being one of the most exciting entrepreneurs in tech into one of the most important figures in global business.
Tesla, his electric car company, long talked about on Wall Street and in Silicon Valley, started to break into mainstream consciousness even if its cars still remain a very niche product. Despite some recent wobbles, shares in the company look poised to end the year about 50% higher than where they finished 2013.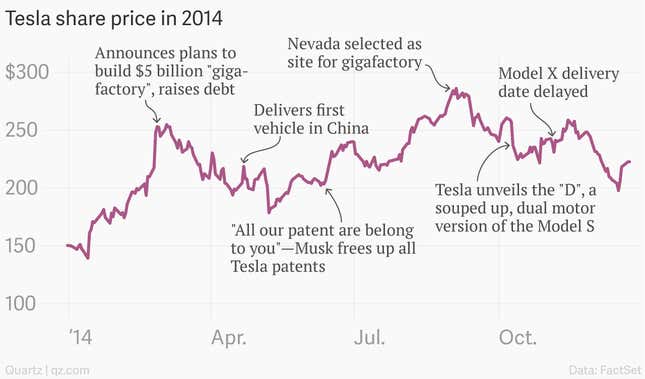 It has been a highly eventful year for the company. Tesla has progressed with construction of the world's biggest lithium-ion battery production facility, a move that–with a little help from Solar City, the energy installation company Musk also chairs–may eventually transform it into much more than just an automaker.
It started delivering its vehicles in China and Australia, took the unusual step of allowing competitors to use its patents, and firmed up plans for a cheaper vehicle that might help broaden its appeal among the masses. And in its last order of business for the year, there is speculation Tesla is going to announce an update to the Roadster, its original vehicle.
But Tesla is only one piece of the Musk story (and don't just take my word for it: check out the revealing 60 Minutes interview he gave back in March for a fuller appreciation of that). This year has also been a big year for SpaceX, the orbital exploration company of which Musk is also CEO. It won a huge contract from the US government, and unveiled new designs for rockets and floating pads for them to land on.
It has also been a big year for Musk in his personal capacity as a visionary and futurist. In recent months, the South African-born entrepreneur has spoken about his vision for a 1 million strong colony on Mars that he thinks will save mankind,  and outlined his concerns about the terrifying possibilities of artificial intelligence, which he has described as "potentially more dangerous than nukes" to the human race.
On the positive side, some experts think his more benign vision for the Hyperloop, an ultra-fast tubular transport system that would get people from San Francisco to Los Angeles in just 30 minutes, might actually become reality within a decade.
Musk has been omnipresent in 2014, but how is next year shaping up? Already there are concerns that sustained weakness in the oil price could reduce the mainstream appeal of Tesla's.The company's ability to ramp up production to meet demand, as it has long promised, will be watched closely (One influential analyst has already cut his sales forecasts for the company). The release of the company's new Model X SUV, expected in the third quarter, will be another big moment. 
SpaceX will no doubt face challenges if its own, as will Solar City. Whatever happens, you get the sense it will be fun to watch.