Shake Shack just filed its papers for an IPO to raise $100 million, and there are more than 200 pages to chew on, from the company's financials to its cringeworthy corporate jargon. Here's our rundown of the contents.
Sizzling hot
Shake Shack's revenue has soared: the chain's bringing in nearly twice as much money as it was two years ago. But profits haven't been as quick to catch up.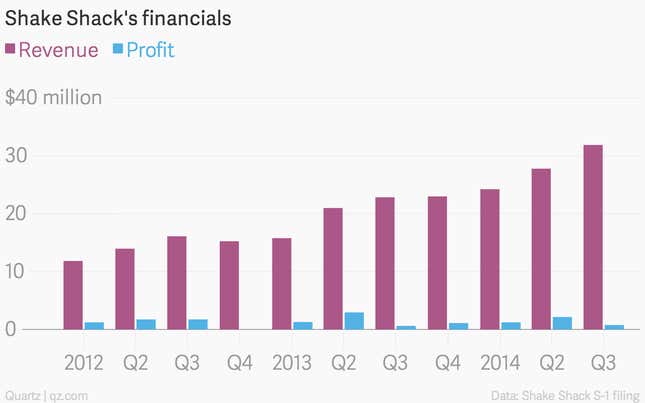 Same-store sales growth, a measure of how business at its restaurants is improving, is miles ahead of big-brand competitors. But things have been slowing down in recent quarters.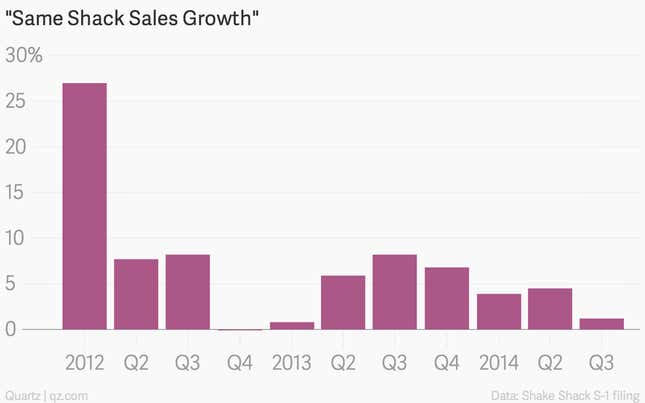 Expansion is a big part of its plans to rectify both issues. The chain got its start in New York City's Madison Square Park a decade ago, and New York is still home to about a quarter of its 63 US locations. But the company is looking to add 10 new US locations a year "for the foreseeable future." That's good news for its fans outside the East Coast, where the chain is most heavily clustered.
International expansion has also been a big contributor to growth, and the Shack is really popular in the Middle East, where four-fifths of its non-US outlets are located.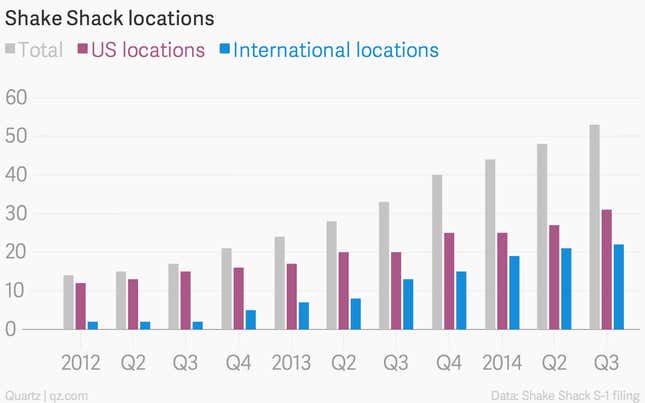 Risky Business
A company's list of risk factors show you its vulnerabilities. For Shake Shack, the No. 1 worry is maintaining sustainable growth. It's a relatively small chain, with enormous growth potential. But if folks outside New York don't dig what the Shack is cooking, it could be in trouble.
Food safety is a potential trouble-spot, too:
Furthermore, our reliance on third-party food suppliers and distributors increases the risk that food-borne illness incidents could be caused by factors outside of our control and that multiple Shacks would be affected rather than a single Shack. We cannot assure that all food items will be properly maintained during transport throughout the supply chain and that our employees will identify all products that may be spoiled and should not be used in our Shacks.
Shake Shack gets all of its beef and "special sauce" from two suppliers a piece, and in each case one of them is good for 87% of its needs. It's the same deal with the "shroom burgers": two suppliers each provide half its raw materials. Its famous custard and potato buns come from one source each. McDonalds is still dealing with sluggish sales in China because of a tainted meat scandal stemmed from a single supplier.
There's also a warning about unionization, which has been a big issue in the fast-food industry this year, because of the ongoing "Fight for 15" protests pursuing higher minimum wages.
Burger Battles
For those looking to pit Shake Shack against big burger chains, don't even think about it. Revenue and profits at giants like McDonald's, Burger King and Wendy's make Shake Shack's financials look like a rounding error.
2013 revenues (in billions)
2103 profits (in billions)
Even relatively small chains like Five Guys and In-N-Out make Shake Shack look puny.