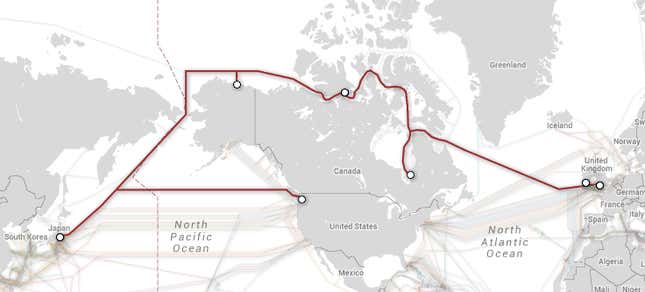 Why would anyone spend $850 million laying a fiber-optic cable between Tokyo and London, passing through some of the coldest, most remote parts of the world, when it would speed up existing data transfers rates only by 24-thousandths of a second?
For financial firms, 24 milliseconds can be a pretty big trading advantage. Today, it takes 154 milliseconds to send data from Tokyo to London. Once the Arctic Fibre cable, a new submarine connection passing through the Northwest Passage, has been laid and lit up in 2016, the 15,600-km (10,000-mile) journey will be 15% faster, according to a fascinating article about the cable in IEEE Spectrum, the magazine of the Institute of Electrical and Electronics Engineers.
Seafarers have been using the Northwest Passage for centuries. In the summer, when the ice melts, the narrow route through Canada's northern archipelago reduces travel time for modern ships by an estimated four days compared to going via the Panama Canal (though this varies depending on starting and ending points). The new cable will take advantage of the same short cut.
In the process, however, it will also bring broadband internet to nearly 60,000 Canadians and just over 25,000 Alaskans who previously had to rely on satellite to get online. Indeed, so slow are existing connections, Arctic Fiber's CEO "had to use a courier to send his 227-page environmental report on the cable to the review board in Cambridge Bay, a hamlet in Canada's most northern province," according to IEEE Spectrum. The fiber link is expected to go live early in 2016.