For everyone who says looking for a job is just like dating, well, app developers think so, too.
There are at least two apps in the US right now that let job seekers and potential employers treat the search process like the matchmaking app Tinder treats prospective dates—swipe right if you like the option presented, left if you don't. The concept could attract more developers as the barrier to entry is pretty low; the existing job-search apps are populated with information from LinkedIn, although users also can manually enter their information.
On the Jobr app, which launched last May, recruiters can see a user's first name, photo, current job, previous job, education, professional summary, skills, and mutual contacts. The app started with a technology and software focus, but has expanded to include Fortune 500 firms and companies throughout the US in the biotech and financial sectors, Andrew Brackin, a Jobr spokesman, told Quartz in an email. When I signed up, I saw openings ranging from from designer to finance manager to vice president of a financial reporting group.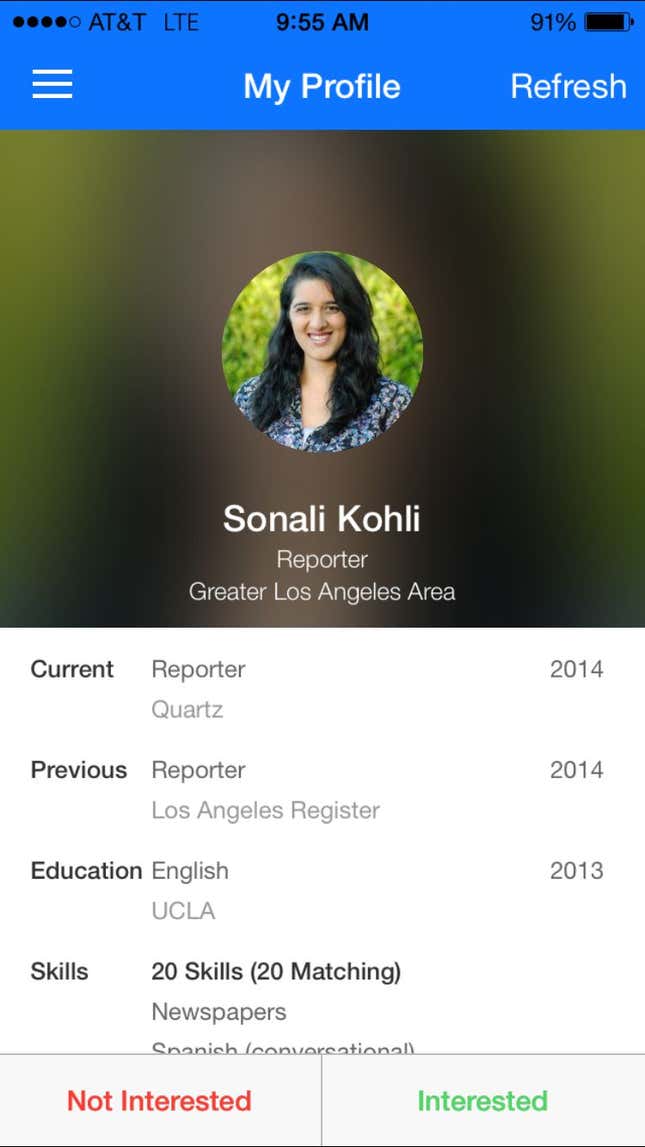 Switch, which launched in July, is more attractive if you're trying to find a job on the down low. It's currently focused on the tech market in New York, but recently completed a $1.4 million funding round that will help it expand to other cities, Shiri Ranot, Switch's business development director, tells Quartz.
On this app, users—or "talent," as Switch refers to job seekers—are anonymous until matched with an employer, at which point names and photos become available. Switch also hides job seekers from any current or former employers, Ranot says.
A recent search I tried out on Switch revealed job openings for sales directors, account executives, software engineers, and developers, at companies including DataXu, Taboola, and Ebay. After about 15 swipes to the left, the app was out of potential jobs for me and told me to check back tomorrow. There are about 150 active employers on the app, mostly in New York, and hundreds of matches offered up per day, Ranot says. Because the app only provides the initial match, Switch does not know how many result in actual job offers or placements, Ranot says.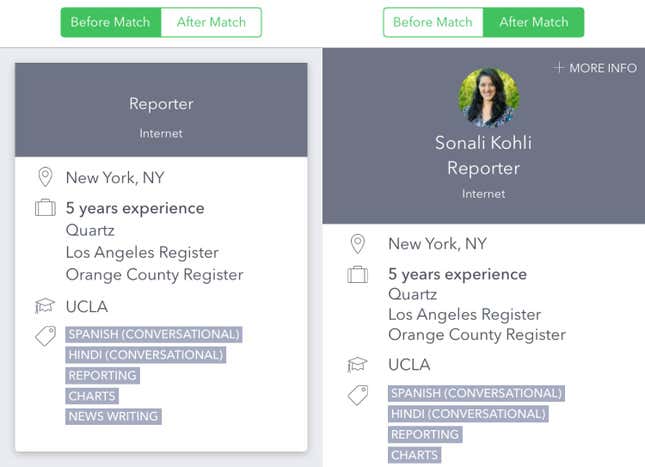 The apps don't provide enough information for most job seekers or human resources departments to make any major decisions, but they offer an alternative approach to recruiters who typically spend a lot of time sifting through cover letters and resumes to identify people with the desired skills or experience. Ranot says she uses Switch herself to find interns and employees for the company. "I love it because it's quick," she says. "I can do it when I go get my coffee, I can do it on the subway."
And for people who are thinking about making the leap but perhaps aren't ready to launch an actual search for a new job, there are even swiping apps now just for networking.