Travelers are endlessly seeking ways to crack the code of erratic airline pricing in search of the cheapest fare. A recent report (pdf) by online travel search engine Expedia and the Airlines Reporting Corporation offers some answers.
Tuesday has long been considered the best day of the week to book tickets for all airlines because airlines often announce deals on Monday evenings, so by Tuesday, other airlines are scrambling to match those deals. With at least three weeks' notice, Expedia found that on average, Tuesday is still the golden day by a slim margin, offering fares that are $28 cheaper on average.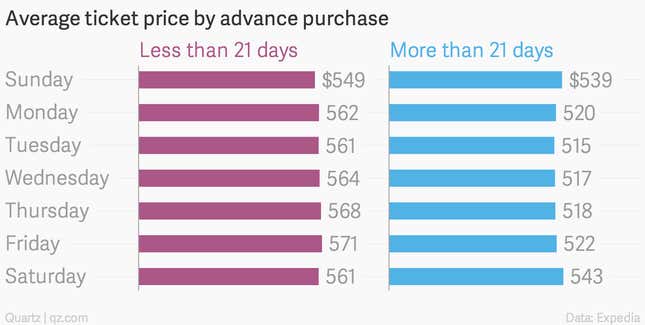 But there are more refined ways to game the system. Airfares change minute by minute and day by day, so merely searching by day of the week won't necessarily result in the cheapest airfare. A better strategy is to settle on a travel window and check fares several times a day.
Being flexible about departure and arrival dates has a big impact on prices, the report found. For long-haul flights, leaving on a Thursday and returning on a Monday, rather than traveling on Friday and returning on Saturday, can reduce airfares by 20%.
For short-haul flights, travelers can save up to 25% by departing on a Saturday and returning on Tuesday, compared to flying on Sunday and returning on Monday.
The age-old strategy of booking in advance is also a money saver. Domestic flight airfares in the US are the lowest 50 to 100 days before the departure, and within that window the best day to book is 57 days ahead. For international flights, it pays to book 150 to 225 days ahead, and within that window the best day is 171 days ahead, according to the report.
In reality, though, the advanced booking rule isn't that simple. The average advanced booking calculations don't take into account the variance in fares by routes and dates. For instance, more popular dates and markets, which tend to be more expensive to book closer to the departure date, need to be booked further ahead than less popular ones, says Patrick Surry, chief data scientist at Hopper, a platform that provides data-driven consumer travel research and advice, told Quartz.
The report's data on early booking to various locations seems to reflect these variations. Booking more than three weeks in advance to cities like New York and Atlanta, for example, is far more cost-effective than booking to Mexico or the Caribbean.