If you plan on accepting Facebook CEO Mark Zuckerberg's invitation to join his new book club, the outgrowth of a New Year's resolution he made to read a book every two weeks, you might need to make some other New Year's resolutions of your own—like shopping for books at brick-and-mortar retailers, or getting a Kindle.
That's because the first book on Zuckerberg's list, The End of Power by Moisés Naím, is shown as being "temporarily out of stock" on Amazon's US site, just three days after Zuckerberg's recommendation of it. (Amazon's UK and Canada sites also show a "temporarily out of stock" message for hardcovers, while paperbacks from Amazon Canada will ship in two to four weeks—more time than Zuckerberg planned to allot to the book.)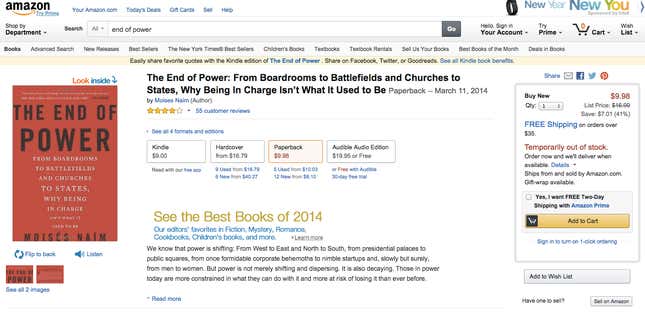 Quartz has reached out to Amazon to see when the retailer expects to have the book back in stock, and we will update the post when we hear back. In the meantime, a downloadable version for Amazon's Kindle e-reader is selling for $9 (about $1 off the paperback price) and hardcover copies and paperbacks are available through other booksellers, including several that sell via Amazon's platform.
The End of Power, about the struggle between established players and newcomers in a variety of fields, was first published in 2013. Perhaps the next test of Zuckerberg's influence on book sales is to see if he can revive an old, out-of-print book, as Bill Gates did when he recommended Business Adventures by John Brooks.