Oil started the first full week of 2015 by plunging through its third price threshold in a little over a month. The US-traded benchmark, known as WTI, punched through $50 a barrel–half the $100 price sold at which it sold in September.
What's more, its swoon has accelerated. Since late November, WTI has fallen first through $70 a barrel, then $60. US gasoline prices are also in free fall—today was the 102nd consecutive day in which they have declined. They now average $2.20 a gallon, meaning that large swaths of the country are paying less than $2.
While WTI doesn't trade internationally, it is strategically important because it's used to price US shale oil, whose three-year-old production surge is a main reason the price keeps tumbling. US drillers are already stopping some planned work, reinforcing an industry consensus that prices can drop only so far before production slows and thus sends them back up. Again and again, analysts have wrongly forecast just where the floor is, but there's not much doubt that the $40s are treacherous territory for producers.
In rival Jan. 4 notes to clients, Citi and Bernstein argued bear and bull cases for oil in 2015 and 2016. Both lowered their forecasts. Citi's Ed Morse said internationally traded Brent crude will average $63 a barrel in 2015 and $70 in 2016, down from Citi's prior $80 and $85 predictions, respectively. (Brent traded today below $53 a barrel.) Morse asserted that an observed decline in oil demand is structural—consumers are becoming more efficient, for example—and that supply from Iraq, the US and Canada will continue to swamp the market.
Bernstein's Oswald Clint is more optimistic. He forecasts Brent at $80 this year and $90 in 2016, (down from $104 and $109, respectively). Clint argues that current low prices will take significant production off the market, and trigger a reversal in the second half of the year. Here is a chart from Clint's note.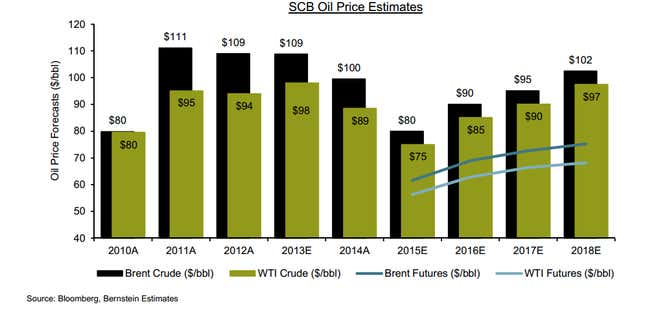 Both forecasts are terrific news for Asian economies, especially India and Indonesia (paywall), which import a high percentage of the oil they consume.
But as of now, Citi's Morse looks on more solid ground. Consider the price momentum of the last four months and today's continued plunge. For Clint's prediction to turn out right, the price of oil will have to turn around dramatically this year and probably hit highs above $90 a barrel. A serious geopolitical crisis could trigger such a spike but that's a slender hook on which to hang the bull case.