Looks like 2014 will make the world record books as the hottest year yet, judging by the data that are trickling in.
This week the United Kingdom confirmed that 2014 was its warmest year (and it can track temperatures in England going back to 1659) while Australia's meteorology bureau said it experienced its third-warmest year since 1910. The Japan Meteorological Agency (JMA) offered the first data for the entire globe in 2014, and yep, you guessed it, the JMA reports the Earth clocked in with its hottest temperatures since records began in the late 19th century.
Brian Kahn at Climate Central notes that it's been a staggering 358 months since Earth had a month that was cooler than average, "and more than 100 years since we last had a record-cold month."
According to the JMA, the global surface temperature was 0.27 degrees Celsius higher in 2014 than the 1981-2010 average, and over 0.6 above the 20th century average. The National Oceanic and Atmospheric Administration in the US has yet to release its data, but it has already noted record-breaking numbers for 2014, with the warmest first 10 calendar months of the year.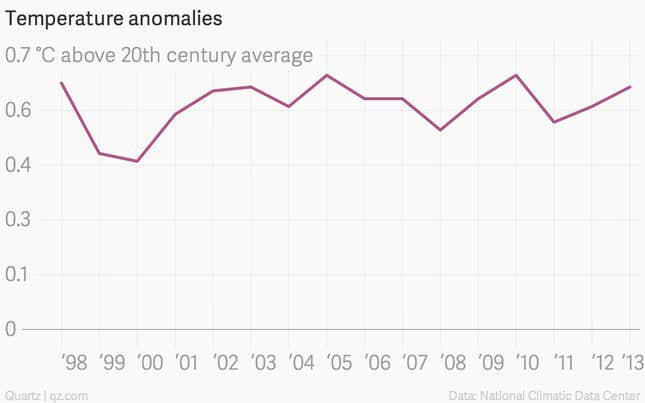 The majority of scientists agree that global warming is a fact, and that it's heavily influenced by human activity, but there's a tiny yet vocal (and powerful) group that still denies the rise in global temperatures.
In July, US Republican Senator James Inhofe of Oklahoma, who will soon head the country's Senate Environment and Public Works Committee (for the second time) maintained that global temperatures have not increased for the past 15 years, a favorite argument among climate change deniers. (h/t Washington Post)