Venture capitalists, once reticent about placing bets on marijuana startups, are now warming to the flourishing field. After all, bud is big business, expected to reap more than $10 billion in sales by 2018, according to cannabis investment network ArcView Group.
Founders Fund, which manages $2 billion in assets, said today that it's investing in marijuana company Privateer Holdings. The firm didn't disclose the exact amount, except to note that it was a "multimillion dollar investment," but Privateer said it plans to close a $75 million funding round in the coming months. Last year, the company raised $22 million in funds.
For the most part, marijuana investors have largely been bullish (and wealthy) individuals and companies representing family trusts and investments. But, as shown by the chart below, there's been a shift in recent years. According to research firm Pitchbook, private equity and venture capital firms accounted for 14 marijuana-related deals in 2014. While that's still a small figure, compare that with 2006 to 2012, when the number of institutional weed deals was never more than three per year.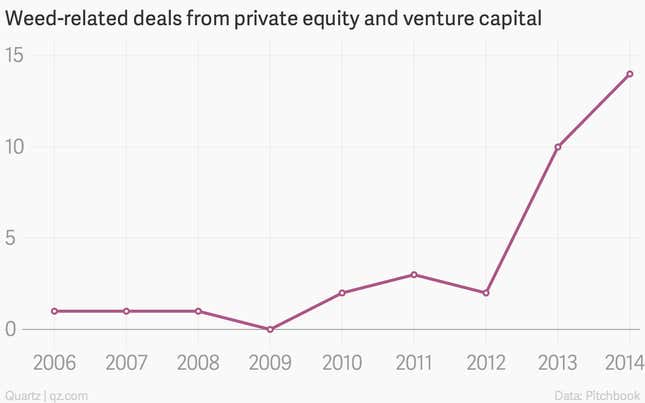 "I do think that we have a tendency to be more open to spaces that other people are afraid to invest in because they don't want to be embarrassed or have a reputational concern," Founders Fund partner Geoff Lewis tells Quartz. "We're more focused on what industries are posed to be the most important industries in the next 10, 20, 30 years."
Though the firm concluded that "cannabis is going to be a really important industry for decades to come," Lewis says there are no plans to invest in other pot startups in the short term. Founders Fund spent a year and half scanning the market before signing the deal with Privateer.
One of the most buzzed-about marijuana companies, Privateer's been on a mission to bring cannabis to the mainstream. Last summer, one of its subsidiaries, marijuana reviews site Leafly, took out a full-page ad in The New York Times. Privateer's portfolio also includes Tilray, a medical-marijuana processing facility in Canada, and Marley Natural, which plans to sell Bob Marley-branded cannabis strains and hemp-derived products later this year.
Privateer CEO Brendan Kennedy says the investment from Founders Fund "validates us and the entire industry," and he thinks other investors will scramble to get a piece of the action.