If you've been paying attention to the music business over the past year, you will be well aware of a few, hugely significant trends sweeping through that industry. For starters, streaming is booming, and that's hurting digital downloads and ownership of music more broadly.
Except for vinyl. Somewhat counter-intuitively, the old format is undergoing quite the renaissance.
Nielsen SoundScan earlier this week released its final review of the US music industry in 2014 and sure enough, its numbers reflect these themes.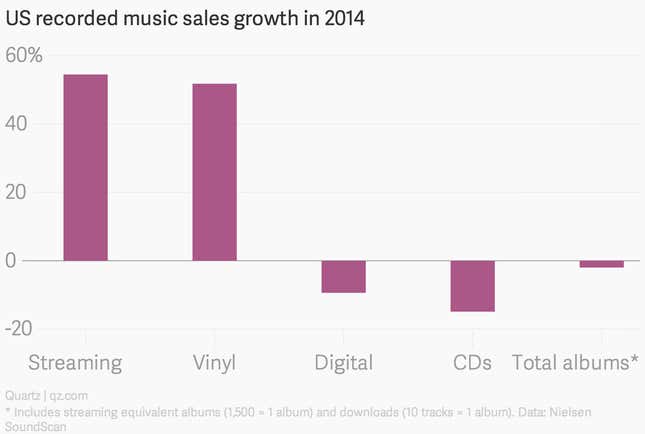 (As a side note, overall the music industry is not in the dire position it's often made out to be. Once you count streaming and track downloads, album sales shrank by only 2% last year.)
The simplest and most common explanation for vinyl's remarkable resurgence—last year 9.2 million vinyl records were sold in the US, the best year since 1991 when Nielsen first started measuring them—is about sound. The widely held belief is that vinyl really does sound better than other formats.
Of course, whether that's true is quite subjective. "There is a strong suspicion in the audiophile community that LP reissues are commonly mastered from a CD source," an opinion piece on Pitchfork, the online music bible, declared in 2013. So much for better sound.
In any case, I think vinyl's comeback is a bit more profound. Influential critic and music industry observer Bob Lefsetz has a more compelling explanation:
Vinyl is agitation against a disconnected society where we have no way to display our identity. If it were really about sound, people would be gravitating to Deezer Elite and Tidal. But they're not, because they don't want to hear better sound, they want to own something.
(Deezer Elite and Tidal are two "lossless" music services that offer higher quality of sound than most streaming platforms.)
True, if the vinyl revival is about a desire to own something tangible, it would go against a growing trend among people to spend on experiences rather than things. But while a vinyl record is a thing, in another sense it also offers an experience (listening to it).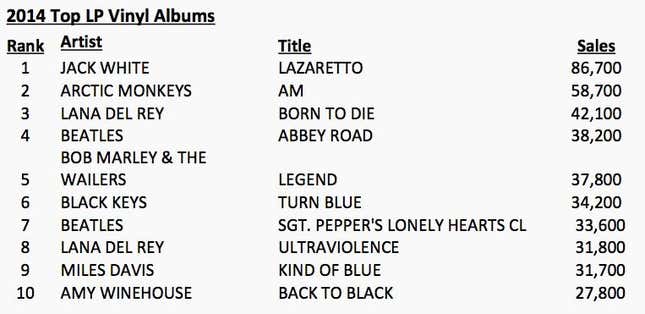 Nielsen's list of top selling vinyl albums last year also supports the theory that vinyl sales are really about nostalgia and identity. Many of them were reissues of classic records.
Nostalgia doesn't explain why more contemporary acts are having success selling old-fashioned LPs, but those are mostly by indie artists (and we all know how important image is to indie fans).
There's at least one more reason why the vinyl revival is so fascinating. Music was one of the first things in the media industry and broader society to be truly disrupted by the internet. Could we soon witness a nostalgia-fueled renaissance for print media, analog photography and hailing taxis on the street?
Then again, humans have a much deeper emotional connection to music than other things. Maybe the vinyl revival is truly unique.