Shopping while black, shopping while brown—racial profiling at the store—has long been decried in minority communities. Recent examples of the problem have cropped up on either side of the Atlantic. Some have been headline grabbers, though countless others less so.
Villanova University researchers Aronté Bennett, Ronald Hill, and Kara Daddario sought to put those feelings in concrete terms with a recent study titled "Shopping While Nonwhite: Racial Discrimination among Minority Consumers," published in the Journal of Consumer Affairs last month.
The paper's introduction cites some recent, high-profile incidents—like the ones that led to a $525,000 settlement paid out by New York fashion retailer Barneys last year—as partial inspiration for the study. Another motivation: the paucity of the kind of focused discrimination research that can be found in other areas like credit access and housing.
The researchers asked the subjects a series of questions about certain behaviors they had encountered while shopping or advertisements they had noticed, and broke out the results by race. They found that across the board, non-white Americans—and especially black Americans—were more likely than white Americans to pick up on things they deemed discriminatory, whether it be in advertising…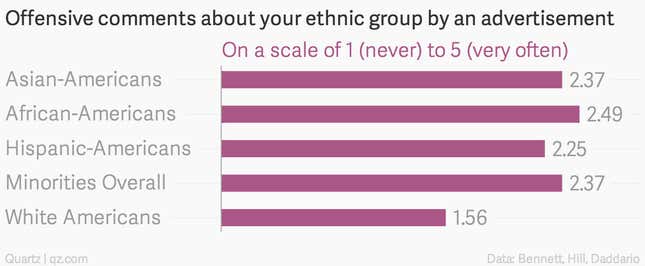 …or at the store itself.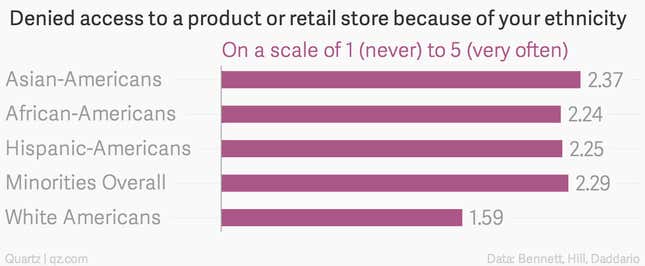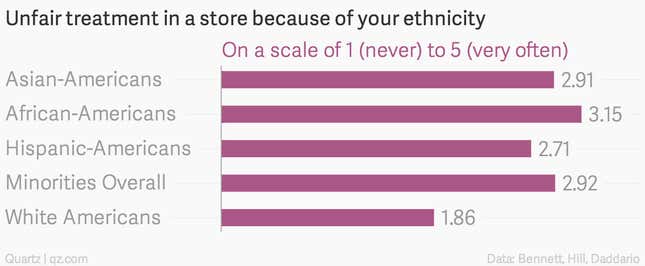 Consider American writer Roxane Gay's description of her own shopping-while-black experience at an electronics store.
I paid for everything with a friendly salesperson in the video game area because that's what you have to do with certain items. Then I went to the bathroom and then I headed for the front of the store. Now, the game was still in its security case. When I got to the front, I showed my receipt for the case to be removed. The young man studied my receipt like it was the most important document he had ever seen. My skin started prickling because I knew something really frustrating was about to happen. I just knew. Anyone who has been racially profiled knows that feeling.
Some shoppers know the feeling better than others. The black people in the study were the most likely group to experience discrimination—and to expect it.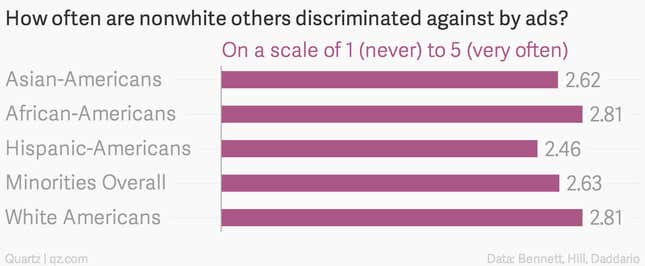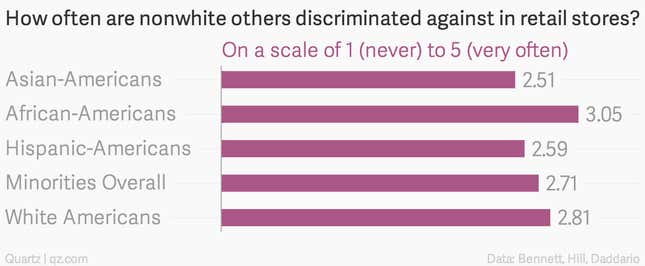 "We have a hard time recognizing these experiences that other people have, because we don't notice them," Bennett tells Quartz. "Many consumers, minority and otherwise, don't think that minorities are experiencing discrimination as a whole."
The researchers concluded that regulators ought to attempt to update anti-discrimination laws for an era in which signs of discrimination aren't so clear. Agencies like the US Federal Trade Commission and state attorneys general "must evolve legislative mandates to capture new forms of consumer discrimination that are referred to here as covert vs. previous overt discrimination," they wrote.