Sri Lankan president Mahinda Rajapaksa just conceded defeat to his one-time ally, Maithripala Sirisena, in an upset that will have an impact far beyond the teardrop-shaped island and its 20 million residents.
Sri Lanka currently has a limited impact on global affairs, thanks in part to an economy crushed by years of civil war. Nevertheless, it is a key to the flow of future global trade due to its strategic location in the Indian Ocean, which puts it right in the middle of shipping lanes between Asia and Europe.
China in particular has identified Sri Lanka as a key part of its "21st Century Maritime Silk Road," an idea first heralded by president Xi Jinping in late 2013 as new unifier of nations across south and east Asia, a springboard for economic growth, and a signature component to China's growing prominence as a global superpower. Sri Lanka would specifically be a key point between China's eastern ports and the Mediterranean.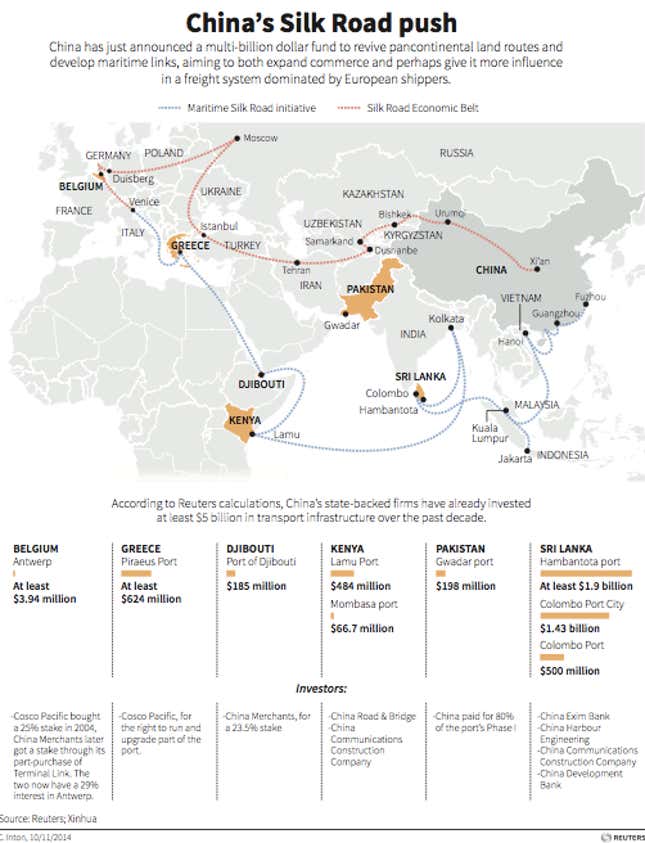 To cement Sri Lanka's role, Beijing pledged to finance a $1.4 billion "port city" in Colombo that would become a major part of this nautical "road," and had been wooing Rajapaksa and his government with millions of dollars in additional investments, and dozens of agreements and treaties. The port project includes creating nearly 600 acres of reclaimed land off Sri Lanka's west coast, right next to a China-controlled container port that is already South Asia's largest. It has been criticized by Rajapaksa's opponents, environmentalists, and tourism boosters, but construction on it started this summer.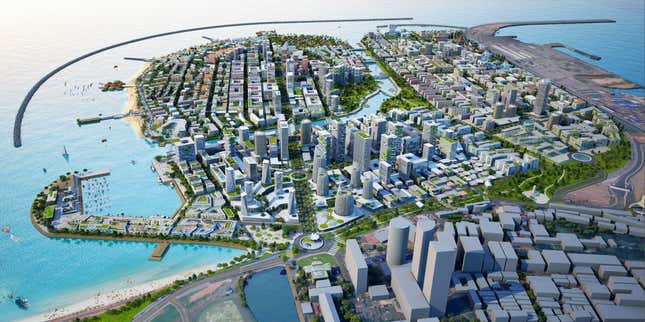 With the election, that section of China's Maritime Silk Road has probably been scrubbed off the map: Sirisena vowed to scrap the port deal to protect the coastal area for tourism.
But that isn't all. His take on Sri Lanka's growing relationship with China, which recently surpassed the United States to be Sri Lanka's second-largest trading partner after India, appears to be anything but friendly. In his election manifesto (pdf), released in mid-December, Sirisena never mentions China specifically, but his view on the evils of credit from abroad (pg. 8) seems to be a direct criticism of the country's growing relationship with Beijing:
The land that the White Man took over by means of military strength is now being obtained by foreigners by paying ransom to a handful of persons. This robbery is taking place before everybody in broad daylight…If this trend continues for another six years our country would become a colony and we would become slaves…Sri Lanka is rapidly getting isolated from the international community.
Sirisena has promised to completely upend Sri Lanka's foreign policy, in part by reorganizing the foreign service. In addition, he pledged to establish "equal relations" with India, China, Pakistan, and Japan, which he calls the "principal countries of Asia." For Beijing, being on equal footing with its Asian neighbors in Sri Lanka is going to be a big step down.