Many gadgets at the Consumer Electronics Show in Las Vegas are too impractical or expensive for the average global consumer to care about. Others are merely showy concepts that no one ever actually buys. But some, like Intel's new "compute stick," are cool, useful, and relatively affordable.
The four-inch dongle is, essentially, Windows on a stick—a more comprehensive version of what something like Google Chromecast offers. For $149, it comes with 2GB of RAM, 32GB of storage, and is already installed with Windows 8.1 (Intel also will offer an $89 Linux version). Plug it into any HDTV—in your living room, at the office, in a hotel room—and you have quickly and effortlessly transferred your computing experience onto a much bigger and better screen.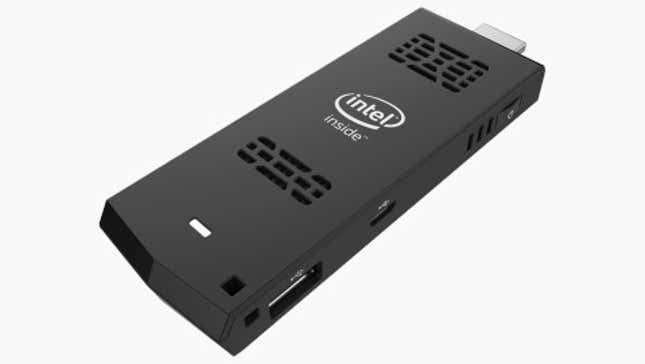 At Quartz, we're obsessed with the ongoing proliferation of screens connected to the internet, and the compute stick is just one of many recent creations to connect the world, one glass surface at a time.
The stick won't be able to perform any high performance tasks like serious gaming, but it can handle just about anything that a low-end laptop or a tablet can do. If you add a cheap wireless keyboard and touchpad (or a mouse), you'd have a portable Windows computer for less than $200. No, it wouldn't be the same as a full-blown computer, but it's about as affordable and functional as gadgets at CES get.