At the end of November, Akuja de Garang sat in her garden in Juba, the capital of South Sudan. She is known for producing a fashion show of local designers in the hopes of fostering unity between the countries' warring ethnic groups.
"Our differences don't need to create conflict," she said. "We can kind of celebrate each other's cultures and try to learn a bit more."
The conflict that broke out a year ago, and has pushed the world's youngest state to the brink of failure, is fueled by ethnic tension stemming from an old rivalry between leaders of the country's two biggest groups, the Dinka and the Nuer.
Dispatches from both camps indicate that they're seeking the decision on the battleground despite signing and breaking no less than four peace agreements.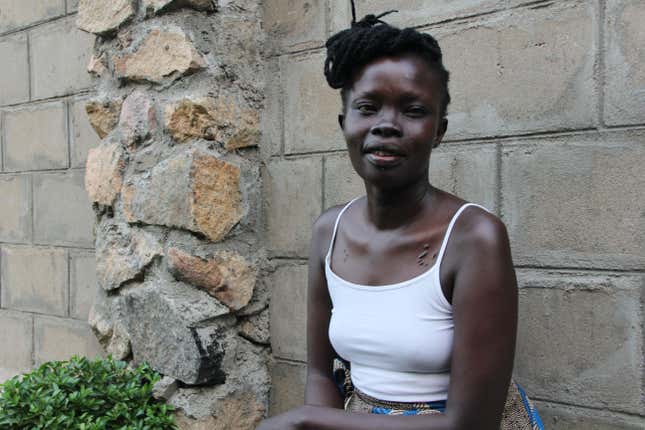 Just days before Christmas in 2013, president Salva Kiir accused his former vice president, Riek Machar, of a coup d'état and violence erupted. The men have been arch foes since Riek Machar broke away from the Sudan People's Liberation Movement, which sought to free the south from the rule of the north, in 1991—a betrayal in the eyes of many South Sudanese. Machar rejoined the movement in 2002 after South Sudan's founding father, John Garang, reached out to him. In 2011, Garang's successor, Salva Kiir, and Machar built a government, a step acclaimed by the international community for building a government of unity despite their differences. However, both leaders remained wary of each other.
In July 2013, when Machar became stronger because of Kiir's poor performance as a president—he was notoriously corrupt and made little progress in development—Kiir sacked his entire cabinet, including Machar. Then came the alleged coup d'etat by Machar. Since then, Kiir and Machar have mobilized their respective ethnic groups, the Dinka and Nuer, in their struggle for power.
While South Sudan has largely disappeared from the news, the conflict is far from over. In early January, the two parties clashed in oil-producing Unity and Upper Nile states. So far, the conflict has killed tens of thousands of people, displaced 1.9 million, and left almost 4 million people in need of food, water, and medical support. Many South Sudanese have lost hope and feel abandoned by the international community. Only three years after independence, the dream of South Sudan is in peril.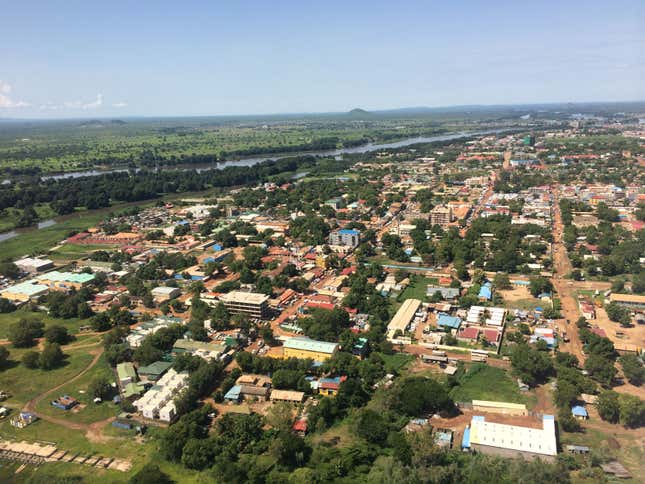 Nevertheless, Akuja de Garang (no relation to John Garang), held her third show in August in Juba and drew a larger crowd than the year before.
The crisis, however, has left its mark on her. Six months ago, she was adamant about staying in her country, no matter what. Now, after several peace deals and international sanctions fell through, she and her husband are thinking about where to go in case things go terribly wrong, Garang said.
"Otherwise it would be naïve if we don't. So we talk about this and then we get too depressed by the whole thing, about being uprooted again because we all have been through this." Like the majority of South Sudanese, she and her family left Sudan at one point during its history of almost 40 years of civil war.
"I think it's very difficult to be optimistic," said Toby Lanzer, the UN's deputy special representative to South Sudan. "The damage that was done this year is perhaps easy to heal at a political level, but when you go down to the levels of communities—communities who will have to live side by side if South Sudan is going to survive as a state and prosper as a country—expecting that of communities right now is a very tall order."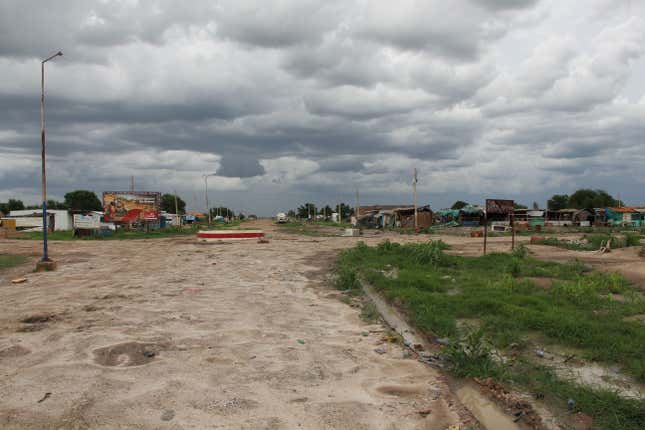 Bentiu is a town in the north, a strategic locale because of its vicinity to important oil fields that are South Sudan's major source of revenue. During the conflict, Bentiu changed hands several times. Back in June, child soldiers patrolled the streets. In a mosque where rebel fighters had massacred hundreds, the smell of dead bodies hung in the air. But in early December, the situation was calm. Some people had returned to their houses. The local market was up and running again and the local government reopened a school. Yet the tranquility was deceptive.
At his guarded compound in Bentiu in the beginning of December, the acting state governor, Wal Yack Gatkuoth, said he expected a new attack any minute. Now that the rainy season is over, moving troops and heavy artillery is once again easy.
"The last fighting in Bentiu, it was on the 29th of October," Yack said, at his desk in a sparsely furnished office. "After that attack of Bentiu town and Rubkona [a town in Unity State], there is no fighting anymore. Our forces still remained in the areas where they are. The forces of the rebels are still around in the areas where they of course used to hold [around Bentiu]."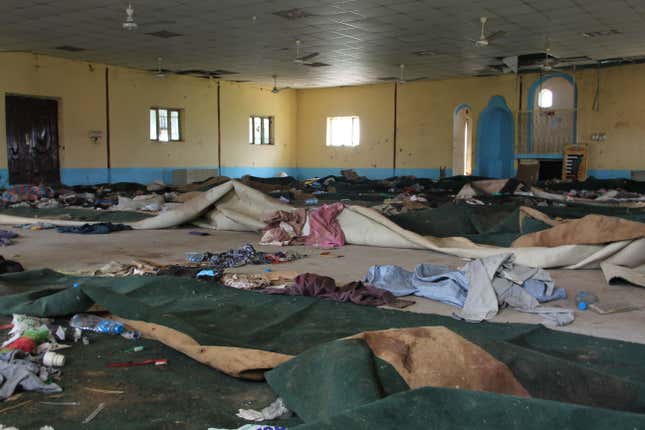 In neighboring Ethiopia, where both sides hold talks, negotiations routinely slow to a crawl. At a press conference on Nov. 21 in the capital, Addis Ababa, a young military leader declared his support for the former deputy-turned rebel Riek Machar. "I'm starting fighting to rescue this situation because if we leave it unchallenged it will perpetuate," said Makuer Mabor Mangar.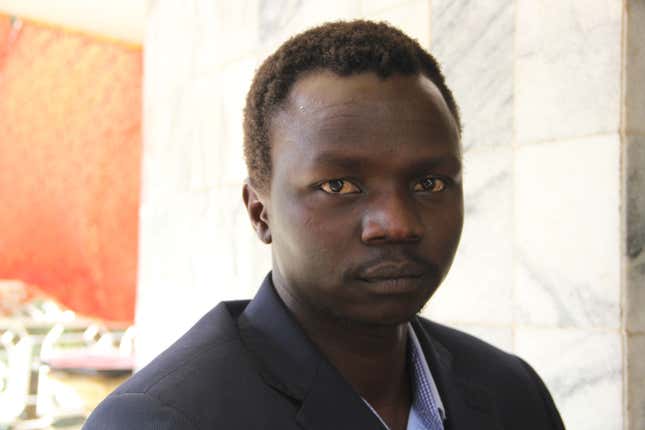 Fiddling with a dog-eared copy of The Accidental Guerilla by David Kilcullen, a former counterinsurgency advisor to General David Petraeus in Iraq, Mabor said he was on his way to Pagak, a city on the border with Ethiopia. There, he would first receive military training and then organize the rebellion in his home state, Lake. At 31, Mabor has spent much of his life in Australia where he has a wife and five children. He has now left them behind to put his life on the line for his country.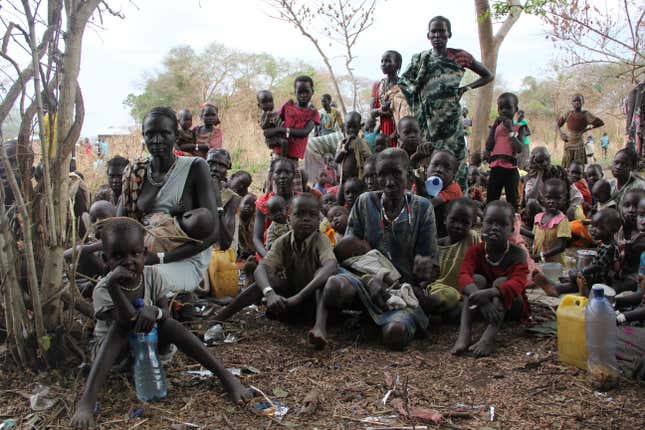 Unlike most at the center for traumatized women in a UN refugee camp near Bentiu, Martha Nyuon Ker, didn't lose her husband in the ongoing war. Her husband left her and theIR six children before the conflict began. "What do you think I feel about our South Sudanese men? They impregnate you and leave you behind," said Martha Nyuon Ker.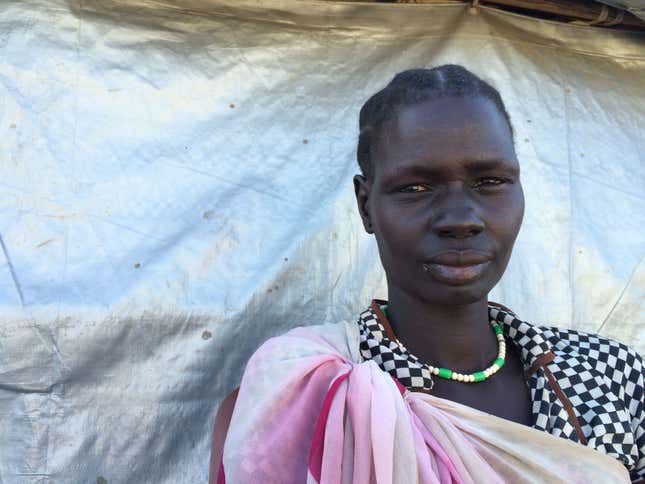 The 38-year-old is pessimistic that her country will ever ascend from the shadows of war. "They've [the soldiers of the government and the rebels] brainwashed our children. And now, they're fighting too."
Until recently, Ker made a living by collecting reeds for building huts, which has become too dangerous now. Outside the refugee camp, women are threatened by marauding soldiers. Every now and then, bullets fly through the air.
About 50,000 people live at the UN refugee camp near Bentiu, sheltered in makeshift huts of mud and plastic sheets. The huts stand on an empty field. Fumes of sweat and feces shroud the settlement that is slowly becoming permanent—complete with schools, clinics, and distinct neighborhoods.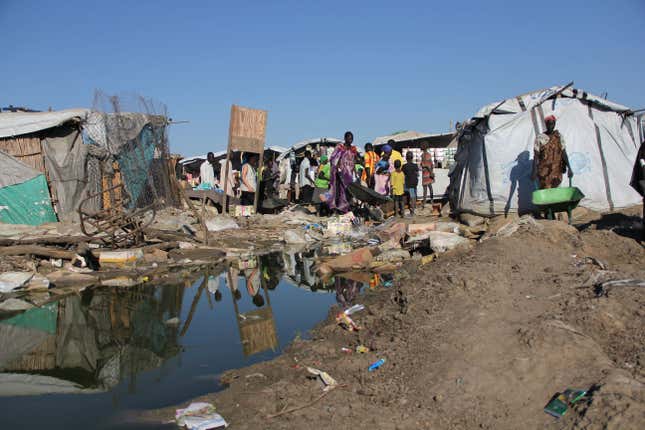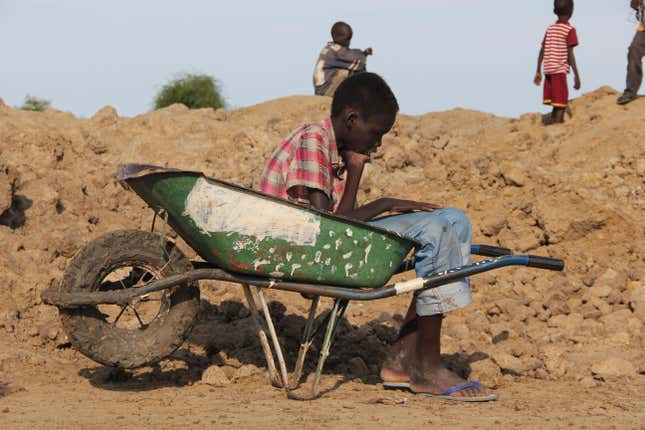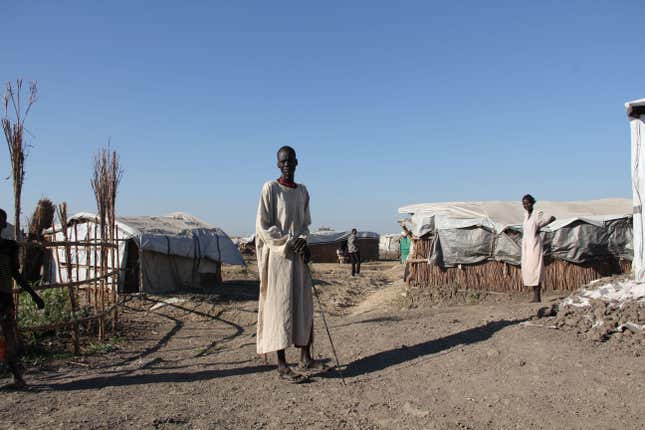 Sunday Bayak, 16, came here in April with his older brother from Bentiu. He doesn't know if the rest of his family is still alive. "I'm not feeling happy," he said. "It's like a prison for us. We can't move freely, we lost many friends."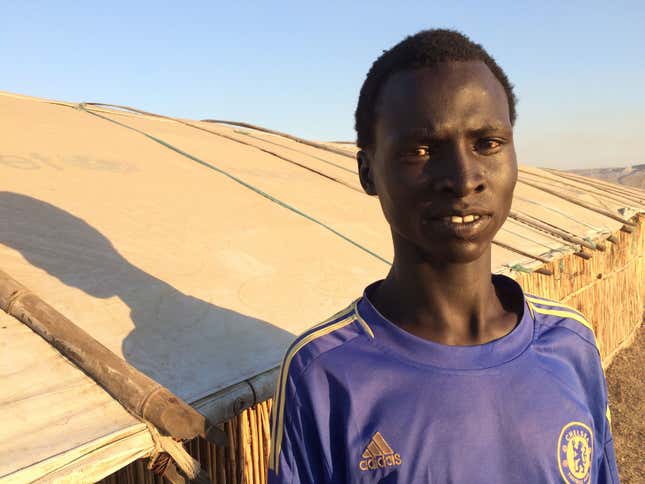 Each side of the conflict has recruited child soldiers, an estimated 9,000 according to UNICEF. Sunday said many of his friends took up arms out of hunger or revenge (or both) for their families who had been killed. He organizes soccer matches and discussions for the youth to prevent them from also joining the fight. Sometimes he teaches children peace songs to counter the war songs that local government airs on the radio to mobilize the population. But some young people have already banded together in gangs, created along the lines of the warring factions.
"I think nobody will help us," said Sunday, frustrated about the war that now goes into its second year without any solution in sight. "We have no power at this stage."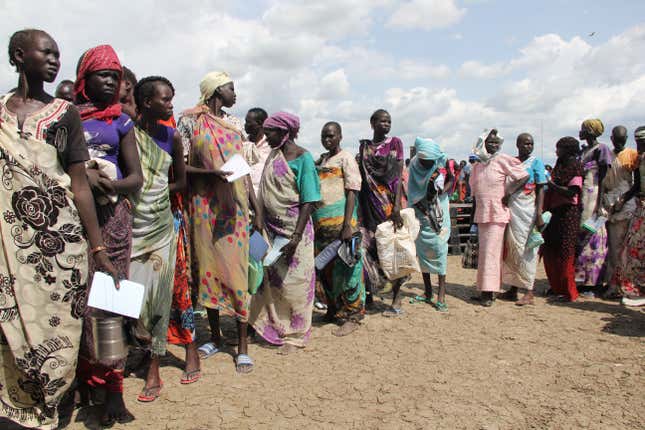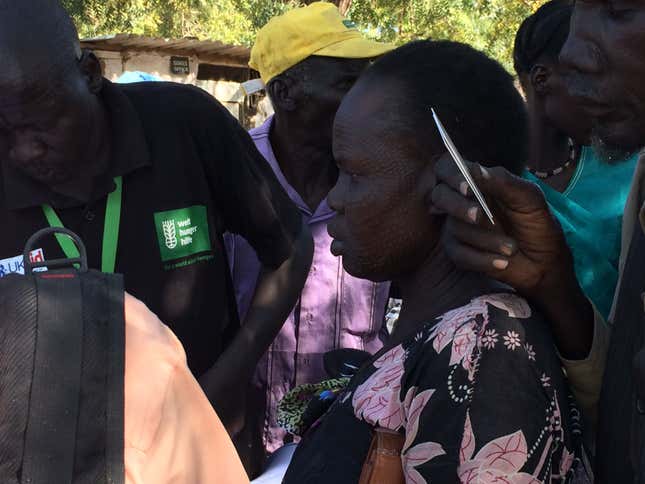 Casie Copeland, an analyst with the International Crisis Group, says the conflict will only end if South Sudan's most important international partners, the US and China, finally intervene. Both countries have largely remained inactive, leaving the terrain for Sudan and Uganda, South Sudan's neighbors to the north and south, who have their own rivalry and further fuel the conflict.
"What we have is a deadlock in the region," said Copeland. "And each side is supporting someone else."
Uganda backs the government of Salva Kiir, Kiir's government accuses Sudan of backing Machar, an allegation Sudan denies. Despite its plan to send in some 700 troops to a UN peacekeeping force for the first time in its history, China (a major exporter of South Sudan's oil) sticks to its tradition of not interfering in another country's domestic affairs. The US has imposed sanctions on leaders from both sides; according to the mission's website, the US contributes military personnel. Copeland said the US can do much more, like pushing for a UN arms embargo, it played a key role in facilitating the independence of South Sudan.
"The Americans have a unique responsibility to South Sudan," said Copleland. On the other hand, the US is staying out of the conflict since it doesn't want to spoil relations with Uganda, the largest contributor of troops to an African Union mission against Islamists in Somalia, an effort whose success America prioritizes.
Leaving the conflict unresolved, however, leaves the risk of yet another regional crisis. Almost 500,000 people have sought refuge in neighboring countries, primarily Ethiopia, putting their fragile economies under more financial strain.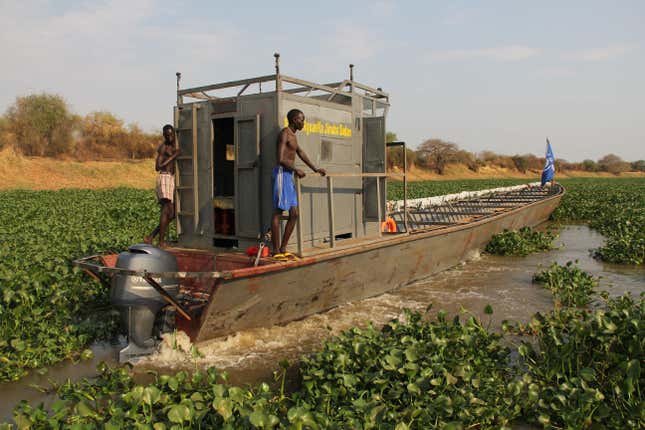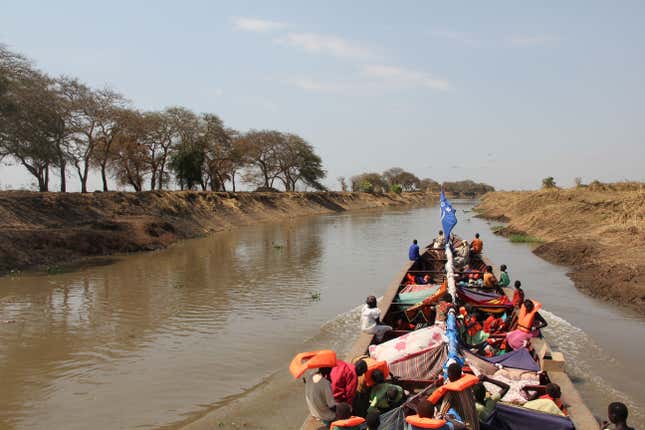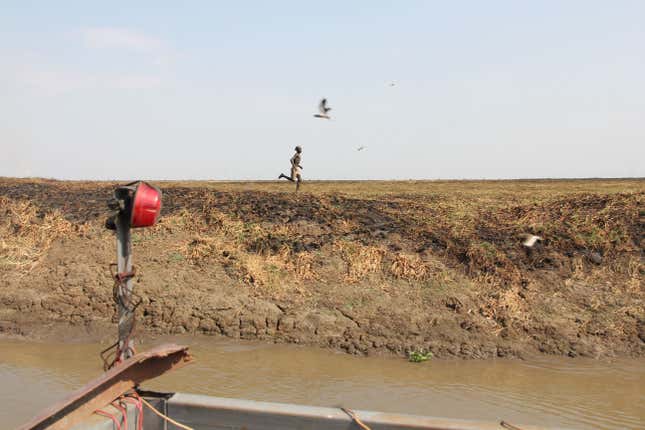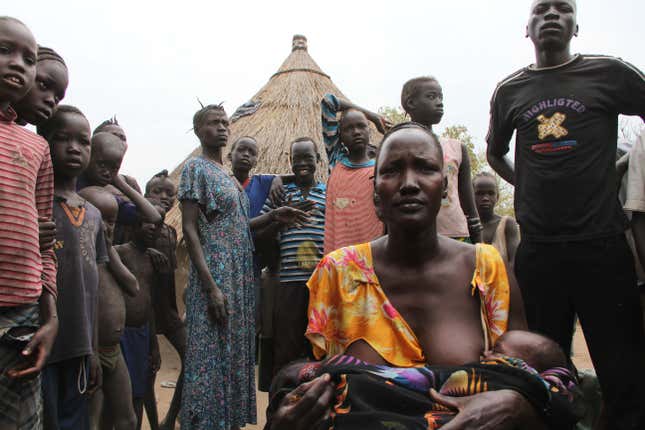 The conflict in South Sudan is often described along ethnic lines but upon closer inspection, it's a division along class and generational lines. The one-party system, formed by ex-guerilla fighters, controls society with a tight grip. The majority of South Sudanese, no matter which ethnic group they are a part of, does not support the war—they're younger and better educated than their fathers' generation. Salva Kiir and Riek Machar, both in their 60s, have fought all their lives in the bush, if not against the oppressive government in the Arab north of president Omar al-Bashir, then against each other.
Protest, though, is difficult. South Sudan is a military state; guns and soldiers are omnipresent.
"It is very difficult to express our feelings," said David Thut Ali, a 27-year-old medical student at the University of Juba. "They just talk of freedom, freedom. Of which freedom? It is not in place, it is not in action."