This story has been updated with a photograph of the GM Bolt, released today.
General Motors believes it can compete head to head with Elon Musk's Tesla Motors with a mid-$30,000s electric car with 200 miles of range on a charge that it will unveil today in Detroit, according to a person with knowledge of GM's strategy.
The unveiling of the Chevrolet "Bolt," the GM concept car (take a look yourself below, released this morning), marks a remarkable recovery for the carmaker, which a year ago had to sever its contract with a Silicon Valley startup company from which it originally planned to buy the 200-mile-range battery. GM's savior is South Korea's LG Chem, which supplies the lithium-ion batteries for GM's plug-in hybrid Volt, and for six months has said that it will produce its own 200-mile battery by 2016. That is the battery that will be in the Bolt.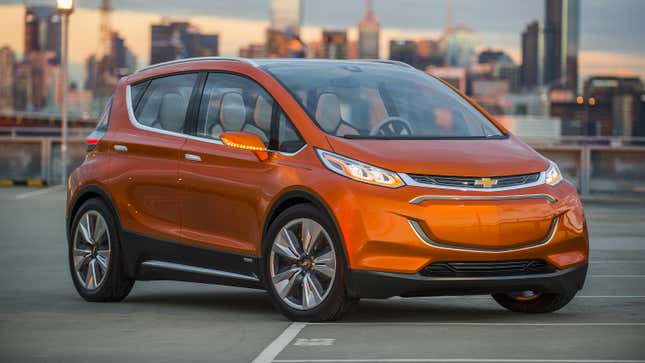 Even if GM can field a 200-mile car, there has been much doubt that it can build one that will not be embarrassing next to Musk's Model 3, a planned 200-mile, $35,000 Tesla that he disclosed in October. Given Musk's record for stylishness, anything GM would produce would seemingly appear dowdy.
But the Bolt, which will begin production in 2017, "is really cool looking," said the person familiar with GM's plans. "It's not a cardboard box on wheels." The person described the Bolt as a crossover SUV, which technically means a vehicle with features of an SUV built on the platform of a sedan.
There already is some early snickering. John Voelcker, editor of Green Car Reports, wrote that the name of the car is "really bad." "To say that there will be a great deal of confusion at dealerships between the Chevy Bolt and the Chevy Volt would be a gross understatement," he said. "And that's not even starting to address the issue of, ummmmm, bolt jokes."
Voelcker previewed humor he found on the Internet, including, "I guess Jolt was taken," and, "I can hear it now: 'Only a nut drives a Bolt.'"
But GM thinks that it has advantages over Tesla, specifically its size as a company, which will allow it to make profits on its cars. It does not believe that Musk can. GM has "purchasing power to leverage with this vehicle," the person said.
As for its name, "Bolt is the name of the concept vehicle," the person said. "It could change."