Britain's biggest supermarkets keep getting squeezed.
Figures published today for the Christmas period, retailers' busiest time of year, show that Tesco, Sainsbury's, Asda, and Morrisons—the four biggest UK grocery chains—all lost market share in the 12 weeks to Jan. 4.
By contrast, chains at the top and bottom of the market continues to gain momentum. Most notably, German discounters Aldi and Lidl saw big gains in sales, up 23% and 15%, respectively, over Christmas. At the same time, high-end outlet Waitrose is also stealing market share, with sales up nearly 7% over the same period: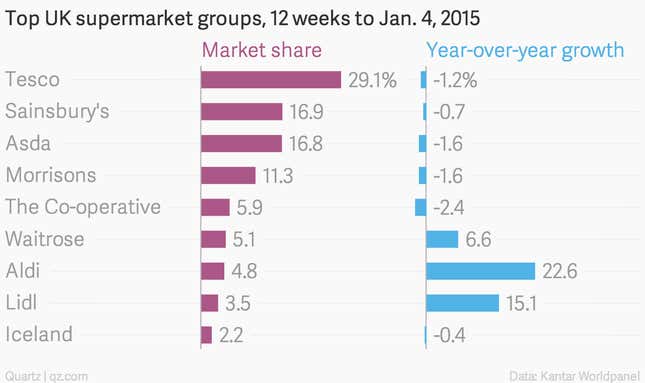 Today, fourth-ranked Morrisons announced that it is ditching its CEO, Dalton Philips. "We need to return the business to growth," said deputy chairman Andrew Higginson. "The board believes this is best done under new leadership." The company says it will close 10 loss-making stores this year.
Market leader Tesco, which saw sales slip by 1.2% during Christmas trading, announced a sweeping restructuring plan last week, cancelling its dividend, closing stores, and selling non-core businesses.
Number-two Sainsbury's just announced 500 job cuts, part of its plan to save £500 million ($755 million) in costs over the next three years.
As the biggest chains retrench, Lidl says it is constantly aiming for "customer orientated expansion," and invites anyone who wants to sell property to it to apply via its website. Aldi also lists hundreds of locations where it is looking for property, including over 200 sites in London alone.
If this all sounds like terrible news for the big chains, why are their share prices rising today? Because the squeeze is nothing new, and analysts expected the sector's stalwarts to fare even worse over the crucial holiday period. Beating such low expectations is not too inspiring, but you have to start somewhere.