It's been a miserable year for the UK's biggest supermarkets—the locally owned ones, anyway. Tesco, Sainsbury's, and Morrisons have been dogged by bad news, as they steadily lose ground to foreign-owned rivals like Walmart's Asda and the privately-held German discounters Aldi and Lidl.
Today, the UK's financial watchdog opened an investigation into accounting practices at Tesco, Britain's largest retailer, after the company revealed a profit overstatement of £250 million ($405 million) last week. Tesco had already issued a series of profit warnings earlier this year before the accounting snafu came to light. The company's shares have lost nearly half their value so far this year, sinking even further than its closest rivals, which is saying something given their travails: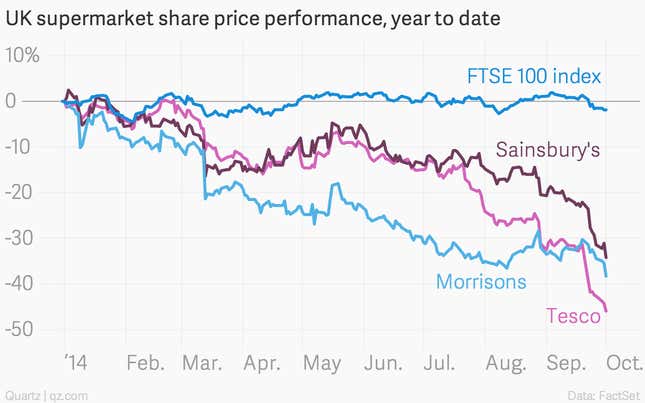 Sainsbury's, Britain's third-largest market chain, reported a drop in quarterly sales today, and said that the declines will continue for at least the next six months. The "dynamic and fiercely competitive" market, in the words of chief executive Mike Coupe, is eroding the company's pricing power. Outright deflation in many product categories is a worry for retailers such as Sainsbury's, which emphasizes quality and customer service more than cut-price discounters such as Aldi.
Analysts at the research firm Kantar Worldpanel say that the average Brit's shopping basket costs the same today as it did a year ago, driving the grocery industry's overall sales growth to a 20-year low. Food prices have been flat or falling for the past four months, according to official statistics: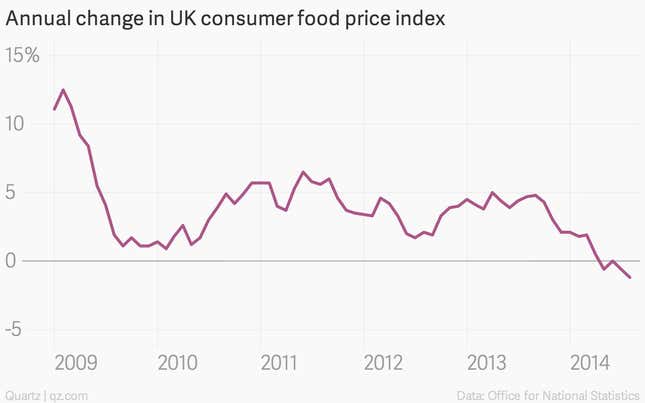 Although not nearly as serious as the financial problems at Tesco, Morrisons—the UK's fourth-largest grocery retailer—generated negative headlines this week when its former head of treasury and tax was charged with insider trading. Last month, the company reported a 7.4% fall in like-for-like sales in its fiscal first half, double the decline at Sainsbury's over a similar period. (Tesco delayed the reporting of its fiscal first-half results as it sorts out its accounting problems.)
As we have written before, British shoppers are flocking to the "hard discounters" from Germany, Aldi and Lidl, putting up with a limited range of choice in return for lower prices. (The same goes for price-conscious Asda, the UK's second-largest supermarket chain, although it offers a few more frills than Aldi and Lidl.) The full-service stores from Tesco, Sainsbury's, and Morrisons have given in and joined the price war, furiously slashing prices to win back customers. But they don't have the same scope to cut prices without savaging profits and disappointing investors—Aldi's UK boss says that the firm is committed to keeping its average basket at least 15% cheaper than the major chains, ensuring that the pricing pressure won't relent any time soon.
Amid stagnant growth in the the industry, Aldi has recorded double-digit annual sales gains for more than three years, according to Kantar Worldpanel. This comes from a much smaller base–Aldi only accounts for 5% of the UK's grocery market—but big expansion plans mean that it won't remain so small for long.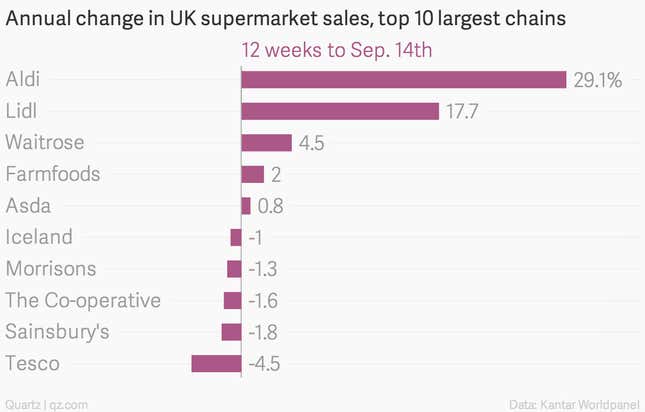 Despite the UK's perky economy—it's expected to post the strongest growth among G7 countries this year—shoppers aren't feeling particularly flush. Take-home pay hasn't kept up with inflation, resulting in a "lost decade" of real wage growth, according to Ernst & Young. This explains the appeal of the discount upstarts, and the desperation of the major chains to defend their turf—by any means necessary.