Some management fashions never go out of style. When new CEOs take the helm, one of their first acts often is to release a slew of bad news. This lowers the bar from which they measure their future achievements, flattering their performance.
Embattled British retail group Tesco was in trouble long before it dumped its boss last month. Still, the market was caught off guard today by the company's third profit warning of the year. Tesco trimmed its earnings forecast once again, slashed its interim dividend by 75%, and said it would spend £400 million ($664 million) less than planned on updating its stores and revamping its technology systems.
The company's stock price fell nearly 7% today, bringing its decline so far this year to more than 30%: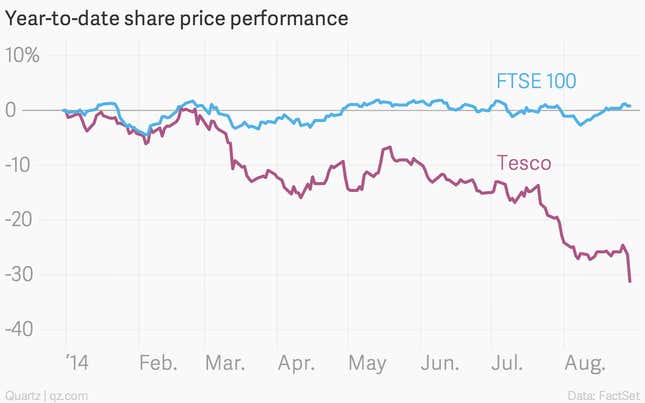 What made the latest profit warning somewhat unexpected was its timing—Tesco's new CEO, longtime Unilever executive Dave Lewis, wasn't due to start until October. Today Tesco said that he would instead start next week, and "will be reviewing every aspect of the group's operations," according to chairman Sir Richard Broadbent.
"This shows us Lewis is already working behind the scenes and he wants to get all the bad news out first," an analyst told Bloomberg. As he was serving out his notice at Unilever, Lewis reportedly has spent weekends working on a plan for Tesco (paywall). Thus, the profit warning, dividend drop, and capex cut would not have come as a surprise to him.
It's a classic case of a company clearing the decks as new management comes in, with the somewhat novel twist that this CEO wasn't even officially employed yet.
Quartz's "We should have seen this coming" series: