The ultimate indignity for any chief executive is when a company's shares jump higher on the news of his departure. And so it is with Philip Clarke (pictured above), who is leaving Tesco after more than three years as CEO, and 40 years at the company. His first job was as a schoolboy stacking shelves at a local store.
His stint at the helm of the world's third-largest supermarket group hasn't been a happy one: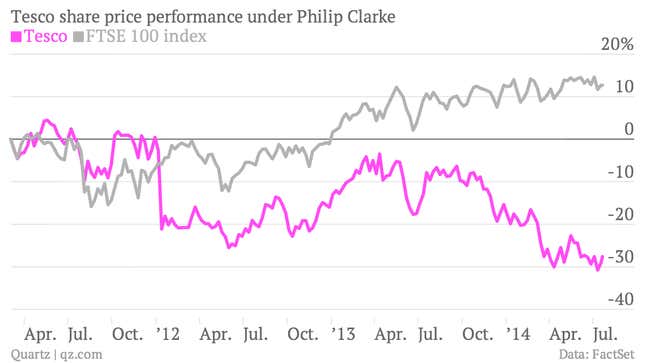 Less than a year after he took over as boss, Clarke issued the company's first profit warning in 20 years (paywall). He later called time on Tesco's ill-fated foray into US convenience stores, and saw its market share at home in Britain drop as hard discounters like Aldi and Lidl enticed shoppers away.
Clarke announced a more aggressive pricing policy to defend Tesco's traditional big-box supermarkets against the discounters, and unveiled a revamp of its out-of-town superstores into "destination retail" concepts, where stores gave up shelf space in favor of upscale coffee shops, artisanal bakeries, and restaurants.
But the sales slide continued, which was reflected by unrest in the boardroom. All of the executive directors in place when Clarke took over in March 2011 steadily left the company. When CFO Laurie McIlwee departed earlier this year—the classic move of an embattled CEO under fire for poor numbers—Clarke was the only executive director left on the board.
The CEO noted in a grim trading update last month that conditions for the company in its home market were the worst he had seen in his four decades at the retailer. Tesco's shares touched a 10-year low earlier this month. The news of Clarke's departure today came with yet another profit warning, but shares are up around 2% at the time of writing. In a sense, there was nobody left to blame for Tesco's poor profit performance, so investors cheered when the board called time on Clarke's reign.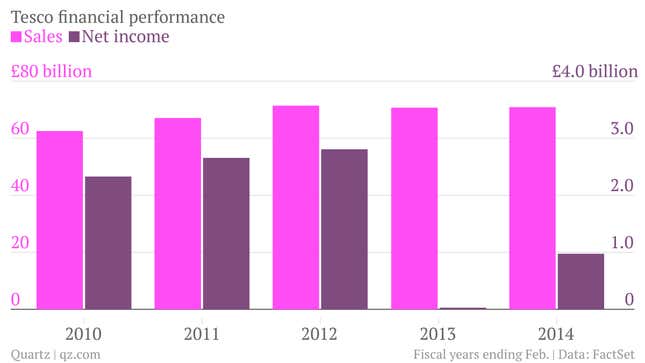 Tesco's new boss is Dave Lewis, a life-long Unilever man who currently heads up the consumer goods group's personal care product line. He is the first outsider tapped as CEO in the company's 95-year history, a clear sign that the board is determined to break from the past.
Later this year Lewis will join new CFO Alan Stewart, due to join Tesco from department store retailer Marks & Spencer. Neither of the two has direct experience in the grocery business, but they will be expected to bring creative ideas to revive Tesco, drawing on the lessons learned from turning around other ailing consumer businesses. Stewart helped revive the fortunes of the book and stationery chain WH Smith, while Lewis reportedly earned the nickname "Drastic Dave" for the severity of cost cuts at various Unilever units under his watch.