After plunging below $50 per barrel, oil has just a few hours later pushed on without resistance and seems headed for the $30s, a price not seen since the doldrums of 2008.
The immediate trigger has been a swatting down of a market rumor that OPEC would surely go into emergency session this month or next to cut production. In Abu Dhabi, Suhail Mohamed Faraj al-Mazrouei, the oil minister for the United Arab Emirates, said OPEC will do no such thing (paywall). He said that the UAE in fact will increase its production capacity to 3.5 million barrels a day by 2017, up from three million now, and that it is higher-cost US shale drillers who should cut.
As a result, Brent crude, the international benchmark, has so far plummeted as low as $45.19 a barrel today, a 61% plunge from the June peak. It no longer seems improbable that oil prices could revisit the 2008 nadir of about $32 a barrel.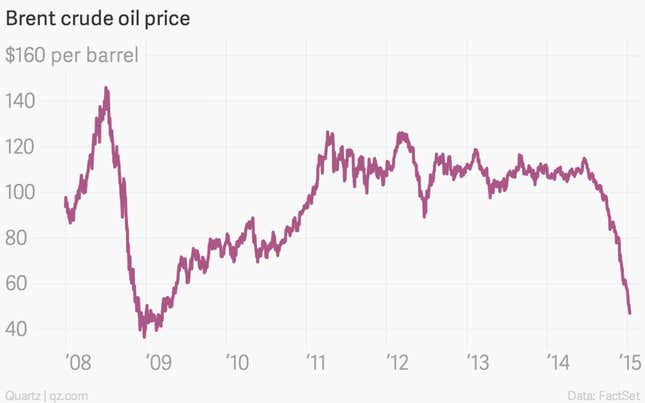 This presents a more nightmarish scenario than ever for the most oil export-reliant and least fiscally prepared petroleum producers—Venezuela, Iran, and Nigeria. Over the last week or so, Venezuela's Nicolas Maduro toured China and OPEC with his hand out, begging for cash to steady his teetering economy and for other producers to join him in cutting back supply. In a speech today, Iran president Hassan Rouhani lashed out at Saudi Arabia and Kuwait, whom he accused of plotting the price plunge; if Iran is suffering, so are both of those countries despite their large cash reserves, he said.
No major analyst is forecasting a return to the December 2008 low point. In a bearish note to clients on Jan. 12, Goldman Sachs forecast only a plummet to $42 a barrel for Brent crude in the first three months of 2015. Goldman said that Brent will then bounce back to average $50.40 for the year and $70 in 2016. But today's plunge seemed to mock Goldman's 2015 prediction.
It costs less and less to drill for shale oil
The key new conclusion that market analysts are reaching is that this oil price plunge is unlike previous ones. For one thing, it could last a lot longer, they say, because shale oil differs fundamentally from conventionally drilled petroleum. When an oil company drills offshore, for instance, there can be a five-year to a decade-long time lag between exploration and actual production. But with shale oil, the time lag can be just 12 months—the process of hydraulic fracturing is far cheaper and requires far less onerous technology. Hence, drillers can, relatively speaking, time the market.
The other main observation is that shale drilling costs are a moving target—already, oil-service companies are charging less for rigs and workers, thus shifting the break-even cost of drilling to the mid-$50s-per-barrel, according to a note to clients by Deutsche Bank's Ryan Todd.
Just a few months ago, lots of analysts were saying that great swaths of shale oil required $90 and even $100 a barrel to keep going. In December, ExxonMobil CEO Rex Tillerson said his own company makes money at $40 a barrel.
Now we are at even ExxonMobil's fulcrum.