We've said it before, we'll say it again. Old-fashioned broadcast radio is a remarkably resilient medium.
This chart is taken from a survey of 2,016 American adults conducted by Morgan Stanley in November and released to investor clients this morning (Jan. 13).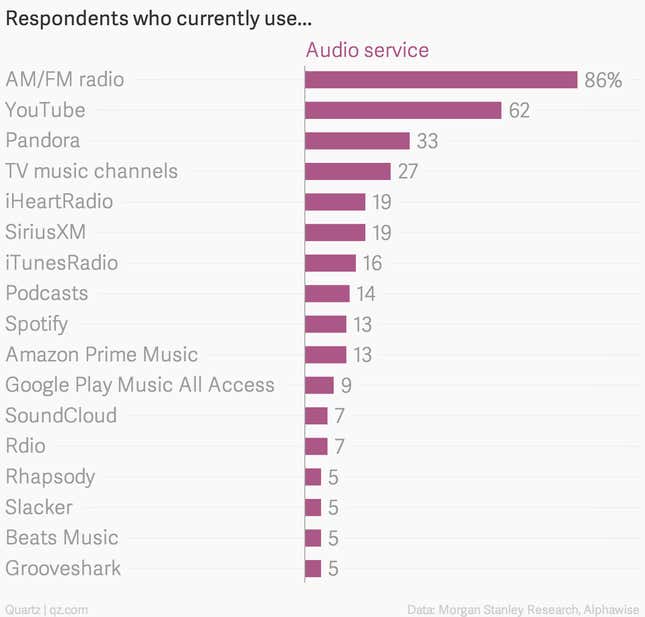 Radio reigns supreme. The old-fashioned wireless remains the audio service used by the most Americans.
The above numbers also suggest consumers still overwhelmingly prefer free music services (internet radio provider Pandora and even TV music channels are quite a bit more popular than other services). And when they want to hear a particular song on demand they find it on YouTube.
The enduring strength of radio is probably best explained by the automobile (which Americans also still love). About half of all radio listening takes place in the car, where radio remains dominant relative to satellite and internet services.
To look at it another way: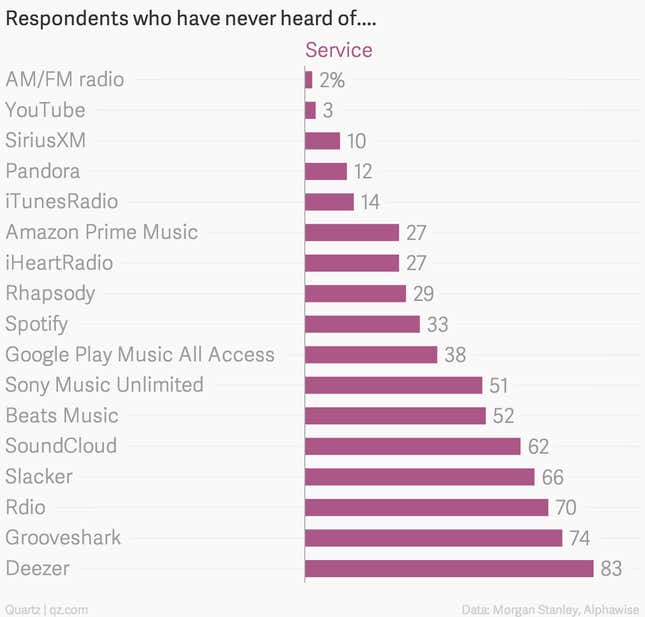 Almost everyone has "heard of" AM/FM radio, which is a relief, since the medium has been around for almost a century. (Though we wonder if the 2% who haven't are very young or very old.) Most people have heard of YouTube, Pandora, and satellite radio company Sirius. Spotify also seems to have decent recognition, befitting its status as the biggest on-demand streaming service out there. But its direct rivals, including Beats, Rdio and Deezer (the last of which, to be fair, has only just arrived in the US) remain pretty unknown.
The good news for streaming music services like these is that there is plenty of room to grow. Their challenge is convincing people to pay for music again. That's an entirely different proposition.