BlackBerry shares jumped 30% this week after Reuters reported that Samsung, the world's largest mobile phone maker, had offered to buy it. (Both companies issued denials that left plenty of wiggle room.) Canada's Globe and Mail also reported that BlackBerry "has shunned a handful of potential buyers in recent months" as it tries to turn itself around.
The sad reality is that BlackBerry has become a textbook example of peaking too soon. It was a smartphone pioneer with early customers so fanatical that its product earned the nickname "CrackBerry." It helped create what has been one of the biggest revolutions in industrial history—the smartphone era. But because it couldn't keep up with its competition, it had to watch as Apple, Google, and Samsung zoomed past and conquered the market just as it exploded.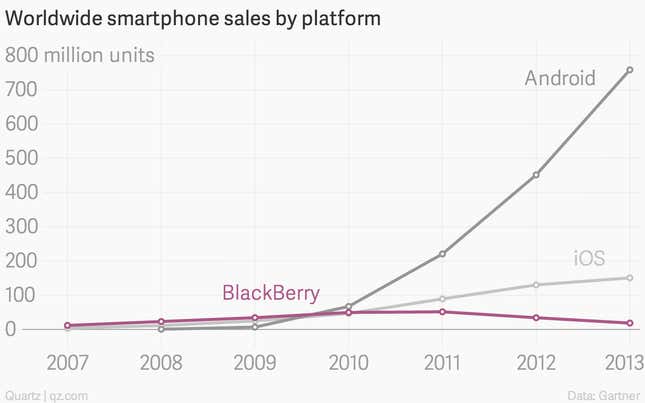 Now BlackBerry simply keeps shrinking. Its market capitalization of $7 billion is a fraction of what it was in late 2009—then $33 billion. I wrote then that the company, which was obviously struggling to compete, should "find a buyer—before it's too late."
More recently, BlackBerry has pegged itself as a security, software, and services provider. At CES, executives showed off a new "internet of things" initiative—an effort to skate to where the puck is going. But its service revenue also continues to shrink as its user base declines, and its software business hasn't yet picked up.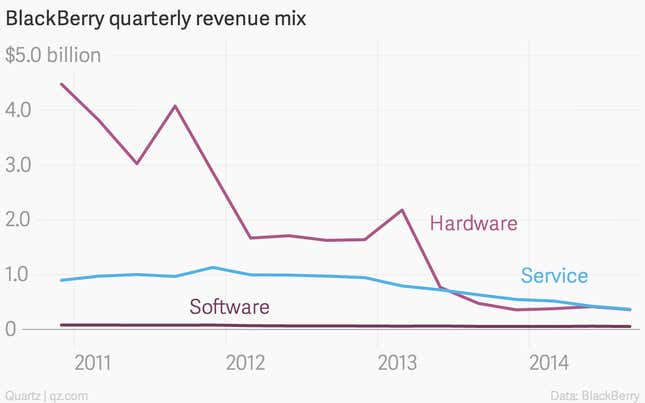 On the company's earnings call last month, CEO John Chen admitted that revenue "is a number that obviously to us is not satisfying" but noted "we probably need a couple of quarters." BlackBerry has cleared out most of its old inventory and is now focusing on new products for corporate users, aiming for "sustainable profitability" next fiscal year.
Meanwhile, its patent portfolio, security infrastructure, and engineers are worth something—especially to a company such as Samsung that already sells plenty of phones. So it's no surprise that buyers are starting to circle.
And an eventual takeout still seems more likely than a self-led turnaround. A recent survey of CIOs conducted by Morgan Stanley found that "BlackBerry was the only named vendor to see the number of respondents that intend to purchase decline. Further, the number of respondents that intend to evaluate BlackBerry also went down."