Every January, hordes of people promise themselves they will lose pounds as part of New Year's resolutions. This has done nothing to improve the investor psychology on one of the biggest names in the weight-loss industry.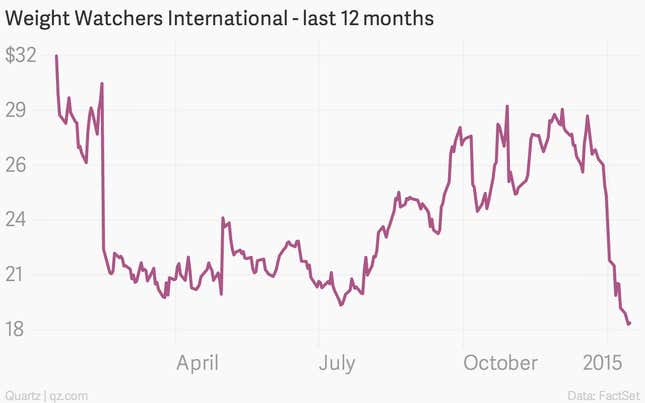 Weight Watchers International's shares have tumbled 32% in the past month alone, sinking the stock to its lowest levels since 2009.
A research report from Credit Suisse indicates that while Weight Watchers' website has seen its customary spike in search traffic this January, it is tracking lower than in previous years. (Of course, whether that translates into lower memberships remains to be seen.)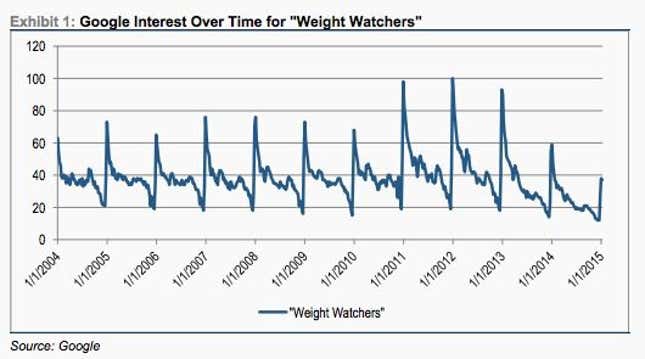 The analyst report suggests that the more muted interest on the part of consumers reflects on the company's new approach to marketing. Last year, Weight Watchers started to move away from celebrity-dominated campaigns (its biggest ambassador at the moment is Jessica Simpson), in favor of a more everyday-people approach.
The weight loss industry is extremely competitive. Other listed players such as Medifast and Nutrifast have not suffered sharp share price falls like Weight Watchers has. Another prominent player, Jenny Craig, was sold (paywall) by its former owner Nestle to a private equity consortium last year.
Representatives for Weight Watchers did not respond to requests for comment.