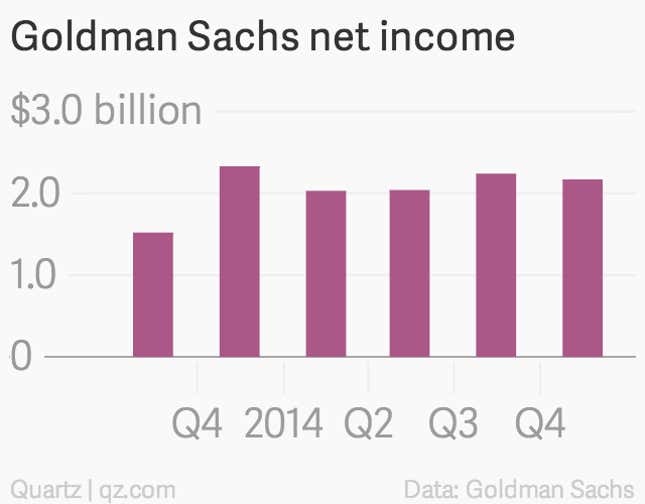 Goldman Sachs posted fourth-quarter results today.
The numbers: Goldman said profit fell 7.1% to $2.17 billion in the fourth quarter from $2.3 billion the year before. Revenue also fell 12% to $7.69 billion.
The takeaway: Goldman couldn't escape the pain that has beset the big American banks from falling trading revenue, which makes up a large part of Goldman's business. Trading revenue from fixed income, currencies and commodities, which fell 29% at Goldman from the year before to $1.22 billion. (JP Morgan, Bank of America and Citigroup all saw similar bond-trading slumps.) Big drops in revenue from debt and equity underwriting, as well as lending, didn't help either.
What's interesting: Goldman continues to rule the roost in M&A, which helped boost its financial advisory revenues by 18% to $692 million, the highest level since 2008. The bank said it has a healthy backlog of deals to work through this year as the M&A pipeline remains solid.