French president François Hollande has had a tough tenure. After being elected in a landslide in 2012, France's economic malaise and Hollande's commitment to raising taxes saw his approval ratings sink below 30% for more than a year—bottoming out at a stunningly low 12% late last year, according to one poll.
But the horrible attacks in France two weeks ago on the satirical magazine Charlie Hebdo and a kosher supermarket in Paris—and the strong police response to it—has changed all that. Hollande has received a 21-point boost in the polls, according to an Ifop-Fiducial survey for Paris Match and Sud Radio (link in French).
That means that Hollande's public approval is at 40% for the first time since the start of 2013. As Paris Match tastelessly put it, "Thank you, Charlie Hebdo."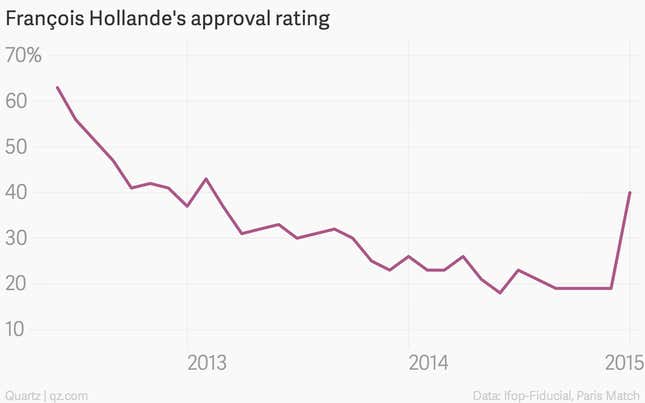 The last time any president received such a bump in the polls was François Mitterand—the last Socialist president prior to Hollande—during the Gulf War in 1991, according to the magazine. Hollande's tough-nosed prime minister, Manuel Valls, also received a bump of 17 points, taking his approval rating to 61%.
This is not unusual, as citizens often rally around their leaders when they respond robustly to a national tragedy. Witness George W. Bush's stratospheric jump in popularity—from 25% to 90%—following the invasion of Afghanistan after 9/11 or the bump in polls that Barack Obama got from the killing of Osama Bin Laden.
And Hollande has now benefited, too. Whether he can use it to give new life to his presidency all the way to a re-election bid in 2017 remains to be seen—but it does make it less likely that he will replaced by a sharia-approving Muslim president in 2022, as France's most famous living writer has provocatively predicted.