Last year China's economic landscape was marked by disappointing trade data, corrections in the property market and, recently, fears that deflation may be on the horizon. Sure enough, the government announced today that the economy grew at its slowest pace since 1990, when growth was crushed by sanctions after the government cracked down on protesters in Tiananmen Square.
But in a surprise to analysts, economist, and investors, China's official GDP growth figures were actually a bit better than expected, coming in at 7.4% for the year, and, most unexpectedly, at 7.3% for the fourth quarter, ahead of the 7.2% quarterly increase that many China watchers expected.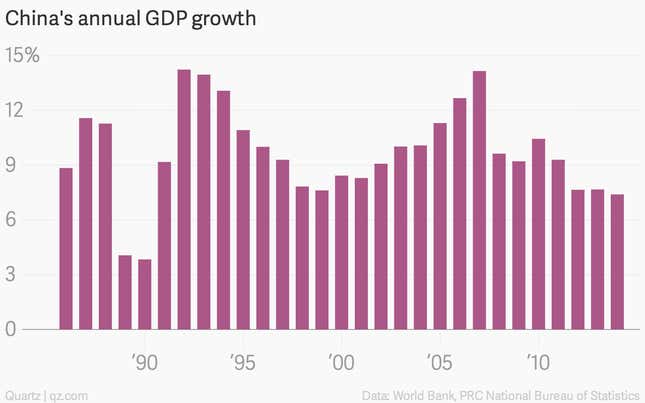 It's notable that Beijing policymakers, who have been widely criticized for massaging official economic figures to match projections rather than reflect reality, allowed the final GDP number to come up short of the official target, which was 7.5%. That hasn't happened since 1998, although targets have been revised as recently as 2013.
The government did its best to put the country's economic situation in the best possible light. As the National Bureau of Statistics framed it, "China's economy realized a new normal of stable growth in 2014." The Central Party Committee and state council have "seized the momentum of development, fully deepened the reform and opening up, focused on the innovation of macro control, tapped into the vitality of the market and fostered the driving force of innovation."
The announcement sent the Shanghai Composite Index, which was crushed on Jan. 19 after a crackdown on margin trading, up more than 1.5% in morning trading in Asia.
But the combination of a pileup of worrying economic data, a jump in "newly increased" outstanding loans by 9.78 trillion yuan ($1.58 trillion), and China's reputation for GDP management, left many analysts and investors unsettled. "The composition and drivers of growth matter even more than the headline rate, and China's growth remains riskily reliant on the expansion of credit," Fitch Ratings analysts wrote. "It will likely take faster progress on structural reform to create space for a form of growth and jobs creation that does not add to China's systemic vulnerabilities."
Fitch predicts that China's annual growth will slow to 6.8% in 2015, and 6.5% in 2016.