Singapore is considering a partial ban on public drinking. According to a bill (pdf) introduced in parliament yesterday, those caught drinking in public between 10:30pm and 7am would be subject to fines of up to S$1,000 ($800) and up to three months in jail for repeat offenses. Retail outlets would also be barred from selling liquor after 10:30 pm, though alcohol can still be served in pubs and restaurants. Being drunk in public is also a punishable offense (pdf, p. 18).
It's a strange regulation to impose on a small city-state with one of the world's lowest rates of alcohol consumption—about 2 liters per capita, compared to 9.2 in the United States, 11.6 in the United Kingdom, and 12.3 in South Korea. That may be because the bill is actually aimed at Singapore's growing population of foreign workers, who make up a third of the work force, largely in low-paying jobs such as house cleaners or construction workers.
Though the idea of a partial ban was first floated in 2012, the real impetus for the ban likely comes from riots that broke out in Singapore's neighborhood of Little India in December 2013, after a South Indian man was accidentally run over and killed by a bus driver ferrying foreign workers back to their dormitories. More than 400 bystanders—mostly workers from India, Sri Lanka, and Bangladesh—subsequently rioted. Activists and NGOs said their long-standing complaints about abuse at work, unfair contracts, and low pay may have played a role.
In the wake of the riots, some officials and residents accused the workers of posing a threat to social stability. Immediately after the riots, the government banned public drinking in Little India. (Increasing instances of drunk expats behaving badly in Singapore may also be a factor in the new legislation.)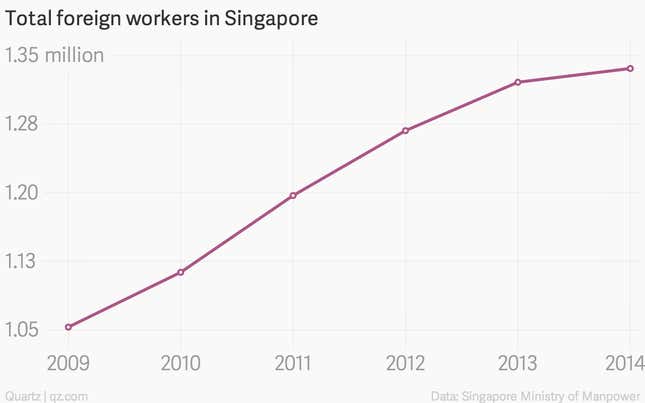 A little over 70% of Singapore's 1.3 million foreign workers are low-wage migrant workers who earn less than $1,400 a month, much of which goes to pay back employment agencies that placed them. Workers have few legal means to demand owed compensation from their employers and little recourse if they are hurt on the job. (In 2013, employers left an injured worker from Myanmar in an alley where he later died.) A study by the Singapore Management University found that 65% of workers who made claims related to injury or salary said their employers threatened them with repatriation.
The current bill proposes maintaining the Little India drinking ban, along with the same restriction in another neighborhood popular with Chinese foreign workers, Geylang. The bill also classifies dormitories for foreign employees—where most of these workers live, on the fringes of the island or near construction sites—as "public spaces" and therefore subject to the drinking limitations. Given their low wages, they're not likely to go to restaurants and pubs as an alternative.
Tin Pei Ling, a government official on a parliamentary committee for home affairs, told the Straits Times, "An island-wide ban may be somewhat blunt, but I think it is necessary. This is because if the measures apply only to certain areas, drinkers will simply be displaced to other areas."