After her marriage was over, just looking at a wedding photo would make Qiu Xuan feel awful. The 29-year-old, a video editor at a communications company in Guangzhou, could tell by the picture that she wasn't half of a happy couple that day, even though she was the one wearing a white veil.
The photo shows the bride and groom with their best man, who was standing in between them, hanging one arm over the groom's shoulder, and leaning his head towards him. Qiu said her yearlong sexless and loveless marriage can be explained in that one image—her husband was in love with his best man, not her.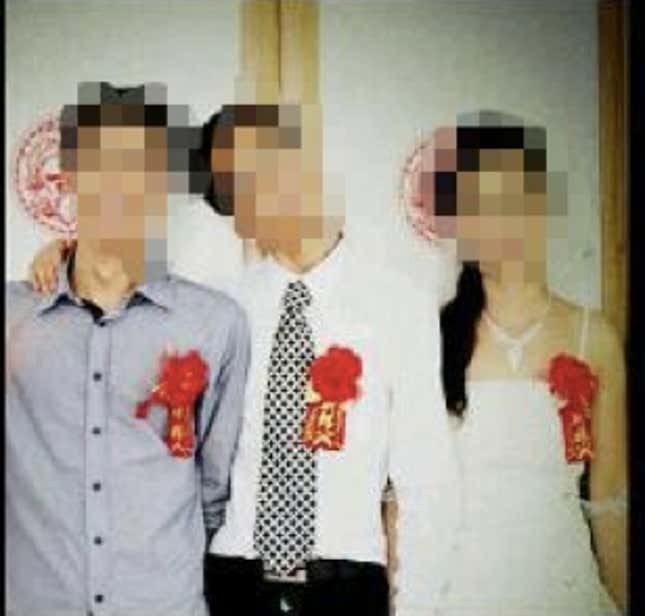 The term "beard" to describe a woman who is used, knowingly or unknowingly, to disguise her partner's homosexuality has been used as slang in the United States for many decades.
But acknowledgement that such marriages even happen is a recent phenomena in China. In China, a "beard" is known straightforwardly as a  同妻(Tongqi), or ""homowife"—the abbreviation of "the wife of a homosexual" in Chinese.
There are millions of gay men married to women in China, academics believe. According to an estimate by Zhang Beichuan, one of the first Chinese scholars to study sexuality, China has 20 million male homosexuals of marriageable age—and 80% of them will marry a woman. In contrast, according to a 2010 Economist report, 15 to 20% of gay men in America have married heterosexual women.
The women in these marriages are quietly becoming an unlikely force in China's nascent gay-rights movement. If men are free to openly have relationships with other men, sham marriages like theirs will no longer happen, they say. Being "homosexual is not wrong," said Qiu in an interview. "What's wrong is to marry a heterosexual to make a tragedy."
Why China has millions of "homowives"
Liu Jie, a 25-year-old homosexual interior decorator from Shantou, Guangdong Province, has thought of entering into a gay-straight marriage, because, like many Chinese of marrying age, he's under a lot of pressure from his parents. "They said they would have nothing to worry about in their lives once I got married. How can I come out of the closet to them?" Liu said to Quartz.
"Among three ways of being an unfilial son, the most serious is to have no heir," argued Mencius, an ancient Confucian philosopher. The idea is still ingrained in modern China; men are under social pressure to marry and produce a male heir to carry on the family line. Though new generations are more open-minded, many still believe that to marry and have children are the two most important things in life, whether they are gay or straight.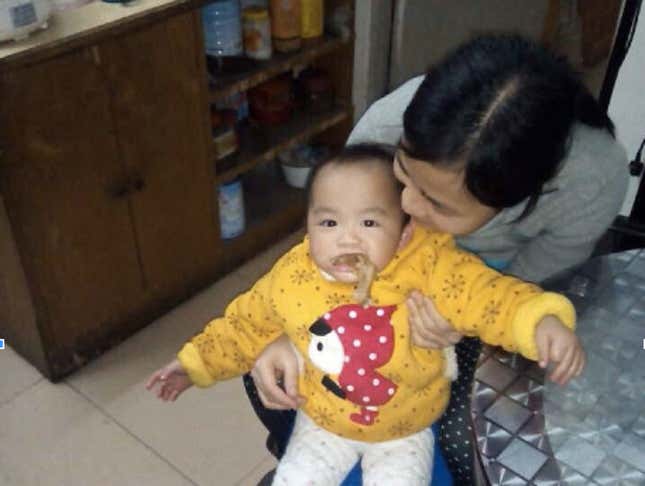 For women who unknowingly marry gay men, a divorce can be difficult to obtain, and can leave them much worse off financially. Qiu, the video editor, got a divorce and custody of her 9-month-old daughter after court mediation. Her husband agreed to pay alimony of 700 yuan, or $114, per month, which, according to Qiu, accounts for less than 20% of his monthly income. Qiu only agreed to the terms, she said, because her husband's family refused to let her see her daughter otherwise.
Qiu said the court had rejected her appeal for further compensation, because she could not prove her husband had an extramarital affair. "He has never admitted he is gay, although everyone knows about that," Qiu said.
"A person who has a spouse but cohabits with another person" is one of the circumstances listed in China's marriage law that allows a husband or wife to file for divorce, and demand compensation from the other party, but in its judicial interpretation, the "another person" only refers to "the opposite sex."
"If a man and a woman get a room [in the hotel], we can say it's an extramarital affair; but if it is two men, we can say nothing," said Liu, 35, a judge from Shenzhen who agreed to speak on the matter if he was identified only by his surname.
Growing awareness, and activism
Some women in China unknowingly married to a gay man are openly choosing to maintain a nominal marriage to give their children a stable family. Jiang Xinyi, a 24-year-old software engineer from Shanghai, who has been counseling women married to gay men since 2009, said this was a common alternative to divorce and separation. "They draw three ground rules for their husbands: Have sex [with their wives], take care of the family, and look after the child."
Other arrangements are springing up as well—like the "cooperative marriage" or "xinghun," in which a lesbian woman and gay man agree to marry to appease their parents.
Jiang first learned there were other women in similar marriages from China's first homowives meeting in 2009. Then a university student, she found the women who had attended the meeting online and joined their chat group on QQ, a popular Chinese instant messaging software.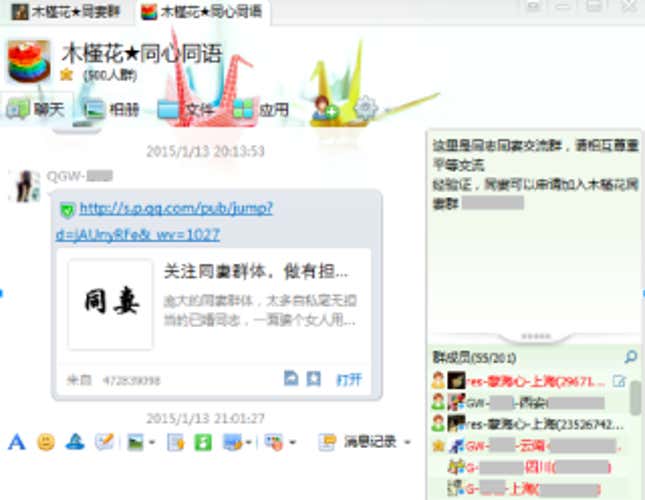 After watching other women share their ordeals and comfort each other in the chat group, Jiang volunteered to establish and operate new groups for newcomers.
Now Jiang runs three QQ chat groups, which have over 200 members in total, and a social media account on Weibo, China's Twitter-like microblog site. She also helps these women get legal advice and speak out to the public. She named the volunteer organization Hibiscus Flower, which she said stands for tenacity and vitality.
"Homowives" and their supporters are getting more vocal about their own situations, and the need for China to become more accepting of homosexuality. Zhang Ziwei, a 27-year-old corporate secretary from Nanchang, southeast China's Jiangxi Province, who dated a gay man three years ago, now manages a QQ chat group on the topic with more than one hundred members. She is translating two books—My Husband Is Gay and When Your Spouse Comes Out, written by Carol Grever, an American woman who married a gay man—into Chinese. After she finishes, she plans to send them to other women in her situation, because there are no such books in China.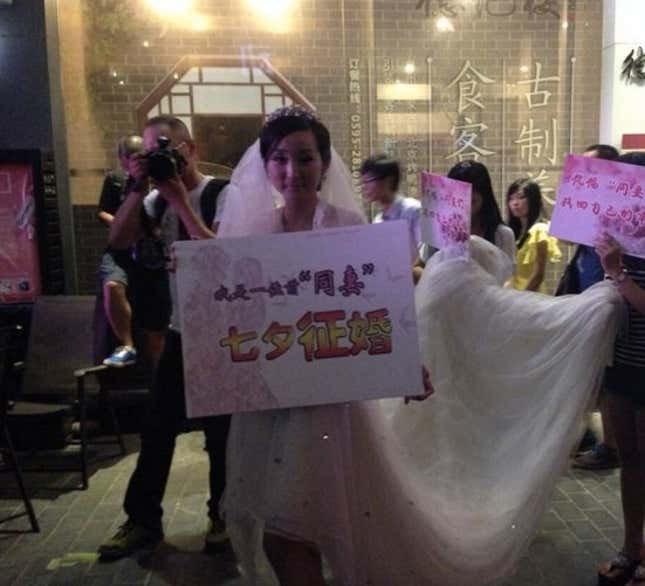 One woman who was formerly married to a gay man, who calls herself "Little Delan," dressed in a bridal gown to seek marriage at the Qixi Festival, China's Valentines' Day, in August, 2014 on the the streets of Quanzhou, the largest city in southeastern Fujian Province. She told Chinese media that, besides finding the right man, she wanted to raise awareness about homowives, and the need for China to offer homosexuals equal rights and legalize gay marriage.
A 51-year-old retired worker from Zhengzhou, central China's Henan Province, who only wants to be identified by her online nickname, Aunt Moon, has been volunteering at Hibiscus Flower since she helped her niece get out of a gay-straight marriage four years ago.
"I don't have a high literacy level, but I am gentle, and willing to talk," said Aunt Moon, who has had volunteer experience at the Red Cross Society of China.
Among the thousands who attended Hong Kong's annual gay rights parade in November, Aunt Moon and the three women she was with became a peculiar scene with their different identities and pursuits from the gay marchers. During the march, they held up placards that read: "My husband is gay. I am in pain."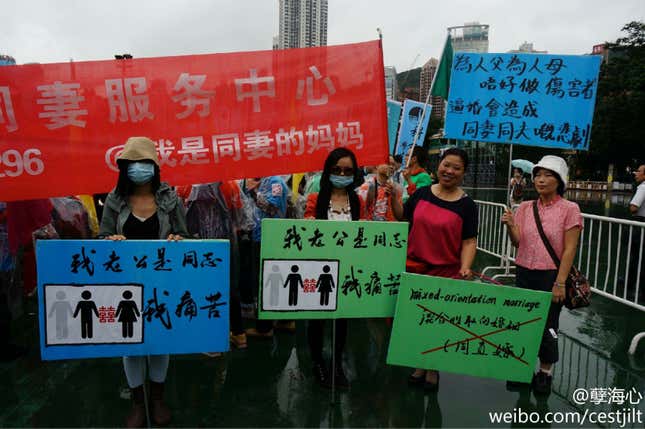 Aunt Moon said she thought it may have been the first time that women married to gay men in China took part in a gay rights demonstration. She said the parade was a chance for them to increase people's awareness about their fate. She wishes the gay rights movements to succeed as well: "the more prosperous the better," she said. Little Delan also appeared at the Hong Kong parade, again in a bridal gown.
Yet a tune of discord hung over the event. A group of gay participants from Hong Kong drew people's attention by holding a red flag, like the ones that police use during protests to tell demonstrators to halt, that read: "Stop discriminating or we will marry a woman and hehe [be gay] in the dark."
"The threatening slogan helps nothing. It will only harm their image," Aunt Moon said. "If they want to achieve marital rights, they must face up to homowives."
Three women married to gay men attended the last annual PFLAG China meeting, the gay support group's co-founder told Quartz. Their involvement isn't without controversy. "Ideally we should stand in the same trench to fight against biases from the society," co-founder Aqiang said. But being a "homowife is only a transitional identity—after they find a heterosexual man and get married, they are no longer homowives." Aqiang said, "I don't expect them to do much."
"What they want is to solve their own problems," he added. "They are often emotional, critical and angry. We can't hear the husbands' voices in their cases."
The future of gay marriage in China
Same-sex marriage is now legally recognized in 16 countries, and 33 states in America. China is not on the list. Li Yinhe, a sociologist and sexologist who has been trying to legalize homosexual marriage since 2000, has failed each time. Li, who has been in a relationship with a transgender man for many years, said she has been unable to get the 30 cosponsors necessary for the idea to be discussed at the Chinese People's Political Consultative Conference, which advises the government on issues that should become law.
The government, Li said, thinks it is an idea that is ahead of its time.
"Homosexual marriage had been brought up when the marriage law was revised in the 1980s," Yang Lixin, a law professor at Renmin University of China, told Quartz, "but the society was deemed not prepared." Yang said next time the marriage law is revised, homosexual marriage might be legalized, but when that will occur, "only the heads of the legislature know."
Until then, expect millions more unhappy couples to tie the knot.
The author is a master's student at The University of Hong Kong's Journalism and Media Studies Center, and an intern with Quartz. You can follow him on Twitter at @pingroma.