China just posted its slowest growth in nearly a quarter century. But based on the IMF's cost-of-living adjustment, it's still on track to oust the US as the planet's biggest economy (the US's GDP data aren't out yet). Here's how the two economies stack up in terms of purchasing power parity (PPP), which the IMF uses to reflect relative buying power (more detail on that here):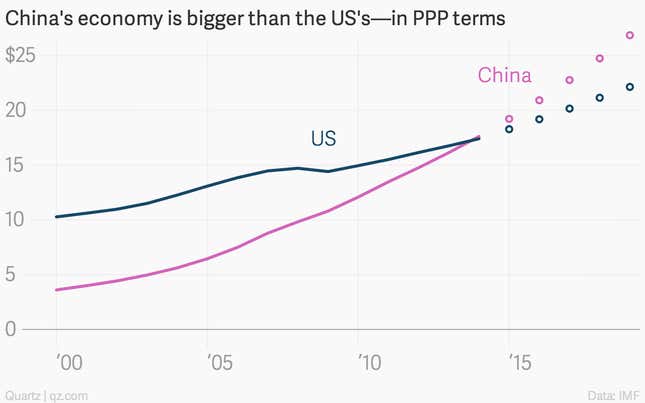 The funny thing is, as we've pointed out before, China doesn't want that crown.
"The [National Bureau of Statistics] does not countenance these claims by some scholars and media organizations [that China has overtaken the US as the world's largest economy]," said Ma Jiantang, head of China's National Bureau of Statistics (NBS) said in a press conference earlier today, Xinhua reports. Though the Chinese government contributed to the IMF's work on the PPP adjustments, Ma says it's still not accurate—and that the government "doesn't agree with the results."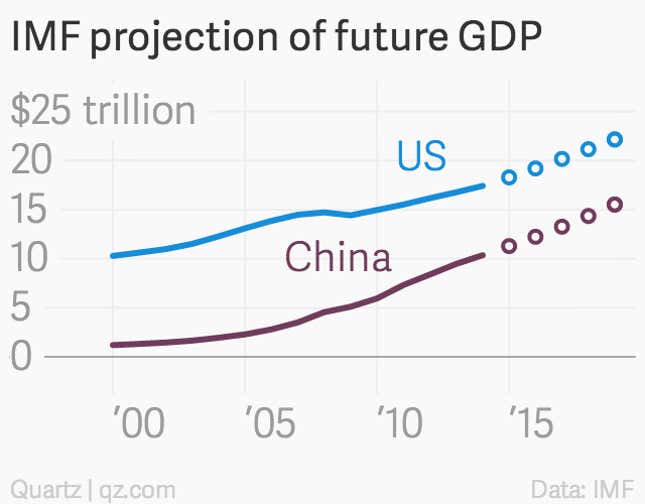 Why so defensive?
Being the "biggest" comes with expectations. And especially dangerous for China's leaders are those from its own people.
For example, one might expect residents of the world's biggest economy to be doing pretty well. Lots of Chinese people don't feel that they are, though. A blogger we quoted in a recent article put the dissonance this way: "So China is very rich, but Chinese people are very poor."
Despite a decade-plus of double-digit annual increases in wages, regular people remain bitter about the fact that almost the only way to be doing really well is through government or business connections. While the Chinese government says the Gini coefficient—which measures wealth inequality (with 0 representing the most equal society)—is 0.469, a study out last year put it at a whopping 0.55—about on par with Colombia.
The Chinese government is clearly skittish about the threat to stability that this disgruntlement poses. Many think one rationale behind president Xi Jinping's so-called anti-corruption crusade is to calm people's ire about graft-driven wealth inequality.
The burden of the biggest has proved a problem before. The government has touted China's holding of the world's biggest foreign exchange reserves—now just shy of $4 trillion—as a point of national pride in the past. That backfired, though, when China's sovereign wealth fund mismanaged those funds, drawing public outrage.
Today's remark isn't the first time China has embraced economic humility. The country often talks a big game in calling for a "multipolar world" and criticizing the US's leadership. But when vice-premier Wang Yang visited the US in late December, he instead baffled China-watchers by asserting that "America is the guide of the world," that the US "already has the leading system and its rules," and that China hoped to play a "constructive role" in that system.
Experts continue to speculate on what this means, but perhaps it's simply that China has enough pressure to handle without being on top of the world.