Has Microsoft adjusted to its new role as an underdog? We'll find out more today when CEO Satya Nadella reveals the company's new Windows 10 operating system at a media event. (Live streaming begins at noon US Eastern time and 5pm London time.)
What's expected?
Microsoft is calling the event "Windows 10: Briefing."
"Microsoft will show a single code base inside the software that will allow an app to run well on phones, tablets and PCs, as opposed to being optimized for one screen size, says a person briefed on the upcoming release," The Information's Steve Nellis and Amir Efrati report (paywall). This is, presumably, related to the Universal app model that Microsoft has been talking about since early 2014.
"Microsoft also plans to introduce new hardware, with some set to appear this week and a phone-laptop hybrid that might appeal to enterprise customers being developed for further in the future," The Information also reports.
"We expect to see a PC version of the Cortana digital assistant that's already deployed in Windows Phone; more graceful integration between the desktop and mobile iterations of Windows; possibly not one, but two new web browsers; and new synergy between Windows 10 and Xbox," Mark Hachman reports for PC World.
The Verge's Tom Warren reported earlier this month that a new Microsoft browser, codenamed Spartan, will feature a cloud annotation service "that allows Windows 10 users to annotate a web page with a stylus and send the notes and annotations to a friend or colleague." He adds: "As annotations are shared, multiple users can doodle on a web page and share edits and annotations between groups."
What's at stake?
The big story for the past decade has been the rapid shift toward mobile—specifically, the rise of Apple's iOS and then Google's Android, which is now the global leader by market share.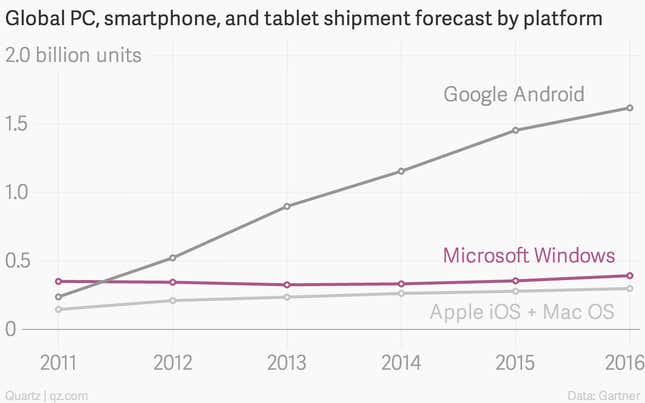 Microsoft, meanwhile, has stagnated. It has never been an important player in mobile, even after buying Nokia. And because PC sales—where Microsoft still controls more than 90% of the global market—are typically either flat or down, depending on the year, Windows has fallen behind. Considering PCs, tablets, and smartphones, Microsoft's market share of all devices is closer to 15%.
'A mobile-first and cloud-first world'
Nadella—who has been Microsoft's CEO for almost a year—published a manifesto last summer, laying out the company's view of the future. It started with the line: "We live in a mobile-first and cloud-first world." Perhaps this seems obvious. But it is also, as we pointed out at the time, a radically different approach than what made the company huge in the first place—the desktop- and document-based world that Microsoft dominated.
To Nadella's credit, Microsoft has already made some surprising moves that suggest he's not just spouting rhetoric but is actually going to make changes. The company started shipping apps for rival platforms, including iOS, Android, and the web. ("We're going to be everywhere," a Microsoft exec told me in a meeting last year.) It has shifted millions of its Office customers to more modern subscription-based billing, and away from the old software-in-a-box licensing model. The company is even discussing whether it should support Android apps on Windows phones, according to The Information's report. That would be a big development if it pans out.
But then there's Windows—the old, friendly giant that hasn't yet found its way in the "mobile-first and cloud-first" world. How serious is Nadella about change? We're about to find out.