Today, Microsoft showed off a new feature-packed web browser, tentatively dubbed Project Spartan, for its upcoming Windows 10 operating system. It includes a number of elements not found on Internet Explorer, including integration with digital assistant Cortana; the ability to annotate web pages; a distraction-free reading mode, and reading lists that sync across devices.
The decision to build an entirely new browser signals Microsoft is trying to move away from Internet Explorer's legacy: outdated, slow, buggy, and susceptible to malware.
This is a problem Microsoft is acutely aware of. As part of a 2012 campaign to promote Internet Explorer 10, the company launched a website with the domain browseryoulovedtohate.com (it now redirects to rethinkie.com). Microsoft has yet to say when Spartan will be released, but it likely won't be in the next Windows 10 build for early testers.
It's still unclear what plans Microsoft has for Internet Explorer—if Spartan will replace or co-exist with the legacy browser. Quartz has reached out to Microsoft for more information and will update this post as warranted.
While Microsoft commanded more than half the desktop browser market share in 2014, major fragmentation means experiences vary greatly from user to user.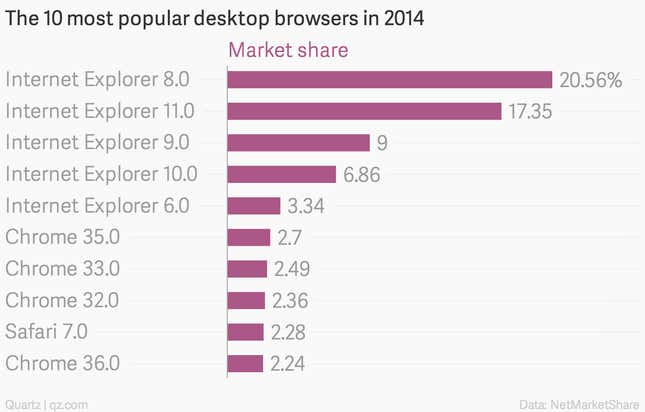 Given that Windows XP—first released in 2001 and no longer supported by Microsoft—is still the second most popular operating system (only Windows 7 is more widely used), Spartan's fresh design and new branding could go far in changing users' perceptions of Microsoft. Key to its success is an architecture that makes web developers, who already gripe about supporting old IE versions, actually want to build for Spartan when it's released.