The World Economic Forum in Davos gets plenty of stick from critics outside the exclusive gathering—and one or two of them even break through the security cordons to (briefly) bring attention to their pet causes.
But some of the harshest words for the aloof global elite come from a delegate who's been a fixture at the annual meeting for 20 years. Philip Jennings (pictured above) is the general secretary of UNI Global Union, an umbrella group that represents more than 900 trade unions around the world.
He might be considered an unlikely figure to be a veteran of the Davos scene. Indeed, "I was with 50 bankers this morning, and I was the only union guy in the room," he told Quartz.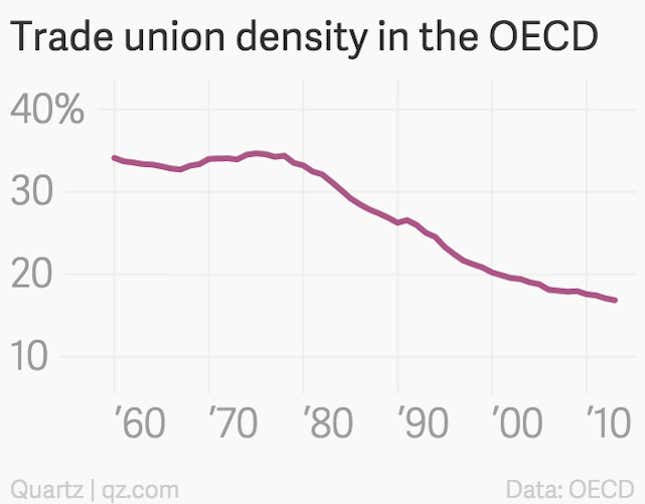 The share of unionized workers in the developed world has been falling for decades. That's not fast enough for some of the corporate bigwigs here. "If I want to fire somebody, I have to go to a judge and ask him," an exasperated European CEO told Quartz earlier in the week.
"That they blame their business failure on the fact that you can't sack someone is lazy thinking," Jennings told Quartz. "When you take a hammer to wages, job security, and people's confidence then the ramifications are bad for business." Two reports published ahead of the Davos confab—Oxfam on rising income equality and the UN on persistent unemployment—show why the relevance of his message "has never been higher," Jennings says. "We have a role to play, and something to say."
But do corporate bosses want to hear it? He has no trouble setting up a packed slate of 20-minute meetings with them in Davos, he says. And that's not because he and his team pulls any punches in his defense of organized labor. "It's brief and sometimes argumentative, but we are respectful and expect to have mature conversations," he says. "It's wrong of people here to imply that the labor movement is on it's knees."
Jennings says his annual hops to Davos—UNI itself is based elsewhere in Switzerland—has led to "a deeper and more profound dialog with business than we have ever had before." And that "creates a climate" amenable to unions on the ground, he adds.
The secret to preparing and surviving the hyperactive schedule his team arranges for each forum is simple, and fitting for the line of work he's in: "We're organized."