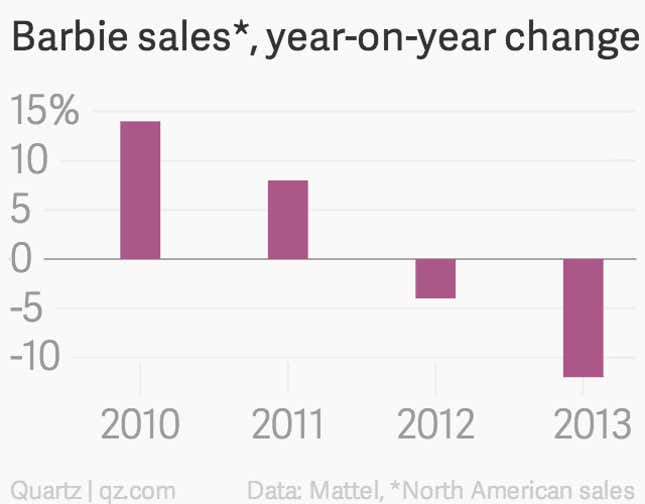 Mattel CEO Bryan Stockton resigned Monday, capping a rotten year for the company. Should Barbie retire, too?
Sales of Mattel's iconic American doll are in free fall. The company ceded its title as the world's largest toy manufacturer to Lego. Mattel lost its license to create dolls for the popular Frozen movie franchise (which are cutting into Barbie's market). And alongside Monday's announcement of its CEO's departure, the company said profit during the all-important holiday season plummeted 59% from the year before to $149.9 million, as sales dropped 6% to $1.99 billion during the same period.
Stockton's decision to let someone else have a turn running the toy maker follows a public struggle to bring back the fun and creativity to a company bogged down by PowerPoint presentations and conference rooms—an issue his successor is going to have to deal with promptly. (For now, a Mattel board member, Christopher Sinclair, will serve as interim CEO.)
But perhaps more importantly, Stockton's exit suggests that a bevy of attempts to revive Barbie—such as the launch of Entrepreneur Barbie and an appearance on the cover of Sports Illustrated—have fizzled. Sales of Barbie fell by 6% to $1.2 billion in 2013 (the most recent data available) making up less than a fifth of Mattel's gross sales.
While there are still die-hard Barbie fans intent on holding on to the nostalgia-loaded childhood doll, Barbie also has plenty of detractors. Some parents may be reluctant to subject their kids to the "Barbie Effect," the theory that Barbie's unrealistic proportions make girls more self-conscious about their own body shapes. And some girls would just rather play with computer games or iPhone apps . In any case, there's no doubt that Barbie has an image problem.
It leaves the next Mattel CEO with a big question to answer: Is Barbie no longer relevant to little girls?