In a 1953 Senate committee hearing, the Eisenhower administration's defense secretary nominee, Charles Erwin Wilson, was asked about his role as General Motors' president. Could he bring himself to make a decision for his country that ran counter to the interests of GM?
Yes, he replied. But he added that he couldn't conceive of such a situation arising, "because for years I thought what was good for the country was good for General Motors and vice versa."
What Wilson observed has been true during much of America's history: The good fortunes of large corporations have indeed coincided with boom times for average Americans. But it's not true right now.
Just today, US consumer confidence, as measured by the conference board's consumer sentiment index, hit a post-crisis high. That's just the most recent indication that the spirits of average Americans have lifted.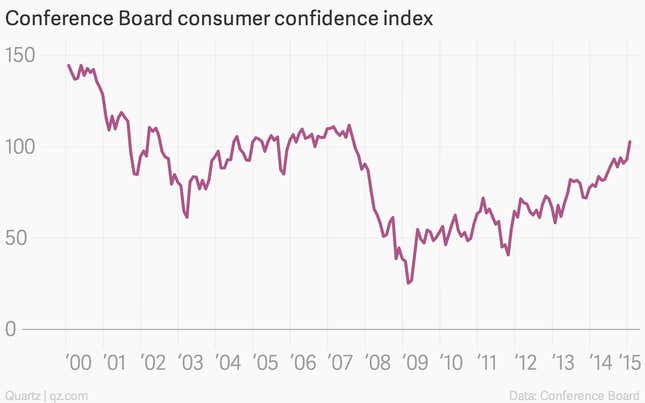 But meanwhile, stock markets are taking it on the chin.
Why? Dour news from America's giant companies. Microsoft warned of weaker earnings in 2015, thanks, in part, to the stronger US dollar. Equipment giant Caterpillar complained that low oil prices will likely dampen profits for the foreseeable future. GE has also signaled that the oil slide could weigh on results in coming quarters. In other words, corporate America's run of incredible profitability—it surged in the aftermath of the great recession—could give way to a period of moderation.
Interestingly, the cross-currents hitting the earnings of large companies are the exact same trends that have buoyed the spirits of working Americans, with the strong dollar and weak oil prices driving down the costs of energy sharply. In fact, the decline in oil prices has done what American employers have been unable or unwilling to over the last few years—give Americans a raise. That's certainly cause for some cheer.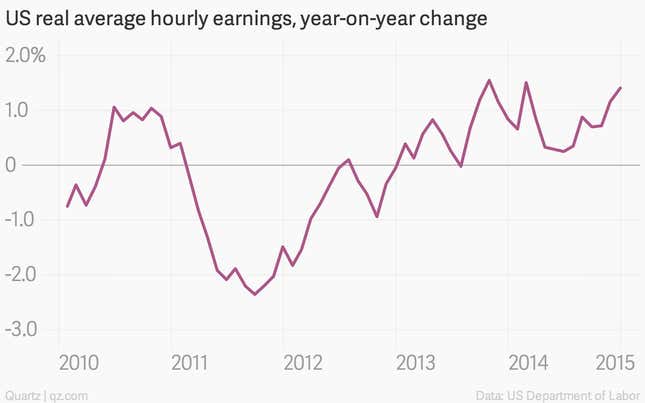 A brief refresher. While corporate America took a gut-punch during the great recession, its profitability recovered quickly as it was able to capitalize on growth in emerging markets, and the weak bargaining power of America's workers.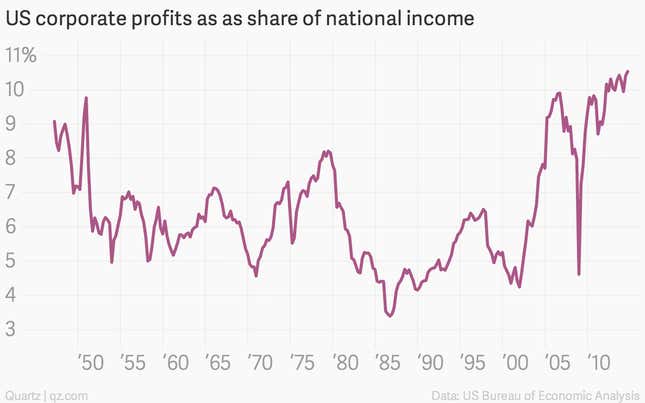 So what's the takeaway? For many years, the stock market—which is heavily tilted toward large global companies—has been a decent gauge of American consumer sentiment. But with the domestic US economy the brightest spot in the global economy, it wouldn't be surprising to see America's large corporations muddle through a few weak quarters. And for most Americans, that'll be just fine.
Oh and for the record, there's a segment of American business that shares the enthusiasm of the broad populace. The sentiment of the domestically oriented American small-business sector has surged lately too.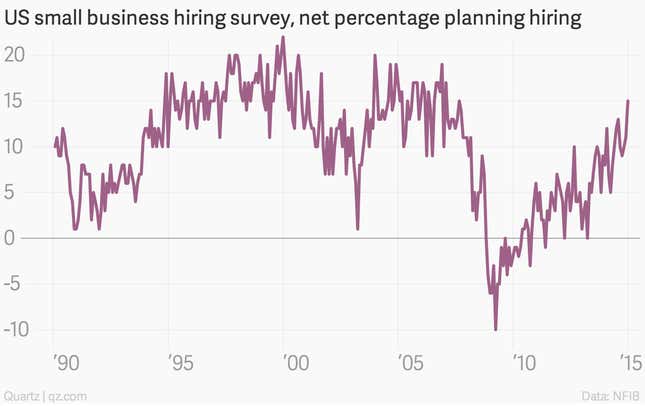 That's a very good indication that we might see a period of divergence between the growth prospects of the major companies in the US and the US economy at large.