Investors know there's money to be made in marijuana, but there's still plenty of hesitation when it comes to putting money in pot—especially when the business deals directly with the plant itself.
While marijuana commerce has been flourishing—raking in $2.7 billion in sales last year from the US's legal market—most investments to date have been in ancillary businesses, such as marijuana reviews sites for consumers or security systems for dispensaries. It's a different story when it comes to companies that actually "touch the plant."
That's a common phrase heard at ArcView Group's investor forum, held this week at San Francisco's iconic Fairmont hotel. The two-day, invite-only conference gives a stage to budding startups and connects them with investors—like a Y Combinator demo day, but focused exclusively on marijuana.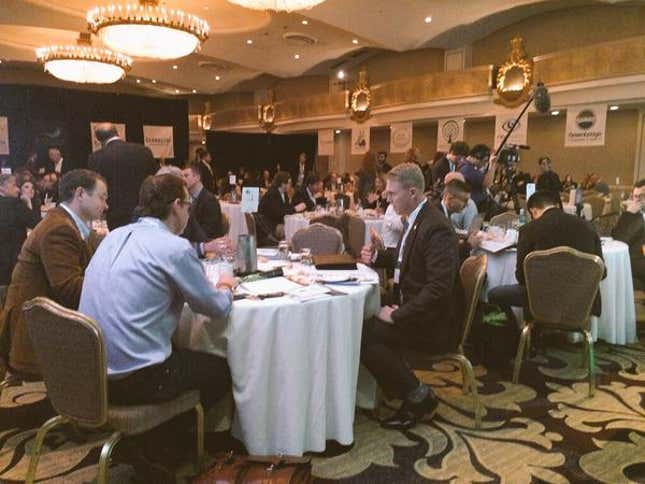 For many investors, auxiliary businesses represent a safer bet. (Case in point: "This is an ancillary product, so it's fairly risk free," the founder of a fertilizer company told a table of suits during an investor speed-dating event.) But the Department of Justice is easing up on marijuana enforcement, prioritizing drug crime involving gangs, trafficking, and minors—and some investors are taking that as a green light to touch the plant.
"We do a tremendous amount of due diligence, but when it comes to companies that touch the plant, it's almost eight times that," Emily Paxhia, founding partner at Poseidon Asset Management, tells Quartz. The marijuana-focused firm invests on both sides of the "green line" (another common phrase uttered here), but she ultimately thinks more money will be made in ancillary companies because of technology's ability to innovate and scale.
For the first year of its existence, MJIC focused solely on ancillary businesses because of its plans to go public. "We were afraid the [Securities and Exchange Commission] wouldn't allow us to go public if we crossed the green line," says CEO Frank Marino. However, when he reviewed the S-1 filings from other public companies involved in cannabis, he found at least three businesses that expressly stated they manufacture and/or sell marijuana. "As far as I'm concerned, we're legal," he says.
Likewise, Troy Dayton, CEO of marijuana investment network ArcView, began noticing a shift in investor attitudes in the last six months. "I think it's because states are regulating," he says. "If states are able to make money, investors see the opportunity—it's too big an opportunity to let slip by." Most of the 40 companies that raised money from ArcView's network are ancillary businesses. But if you look at the actual dollar amount, it's the few companies that touch the plant that command the most money, says Dayton. (That's because of higher setup costs associated with growing marijuana, he notes.)
While not all investors agree with him, he sees these companies as "generally a more sure bet on returns," largely due to the limited number of licenses to grow and sell marijuana in states where it's legal. His bullishness echoes what he told me when we first met two years ago: "If you're one of those people who get a license, that could be a license to print money."