If you spent any time on the internet last year you would know that there's an enormous  (and quite strange) subculture that exists around video games. And like other corners of the entertainment world, the gaming business, estimated to be worth more than $15 billion a year in the US alone, is undergoing a dramatic, internet-led transformation.
Physical games for consoles are quickly being replaced by alternatives as gamers shift their focus to mobile devices, where free versions of games can be downloaded (and new features and levels can be unlocked for a price).  It's reminiscent of the music business, where CD sales and digital downloads are on the decline, amid the rise of subscription-based, online streaming services.
Or so we thought.
Electronic Arts, one of the biggest video-game companies—it's behind the popular FIFA and Madden franchises—reported quarterly results late yesterday (Jan. 27), and they were stronger than expected. EA has been an astoundingly good investment lately, mainly because it has been managing this transition well. It's stock has more than doubled over the past year and is today flirting with its highest levels in seven years.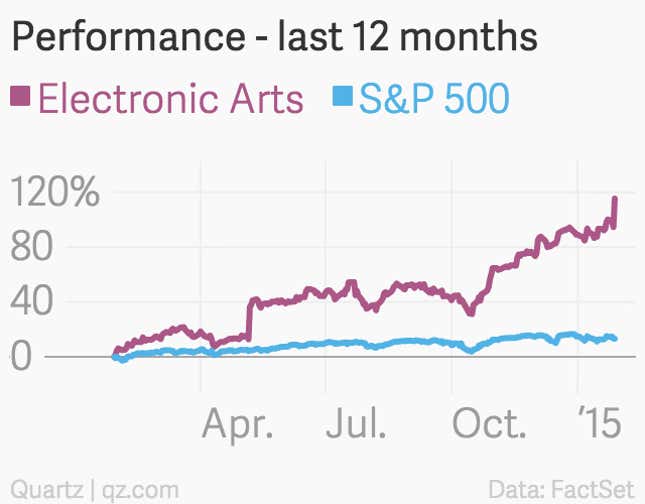 What is fascinating about EA's above-forecast quarter is that it actually was better-than-expected physical sales that drove the strong result, with "packaged goods" (versus digital sales) accounting for a little more than half of total revenue. What's more, it was actually sales of games for older consoles (not the newest versions of the X-Box and PlayStation) that performed the best. "It's not what people would have expected a year or two ago," Macquarie Securities analyst Ben Schachter tells Quartz.
EA's digital revenue also was stronger than expected, driven more by downloads of games and extra content for console games, rather than mobile products, which actually underwhelmed, he says. "The packaged disc is doing better than expected," Schachter notes.  "And once people are buying that disc they are also downloading additional content."
Is old-school video gaming experiencing its vinyl moment? The analogy to the revival in record sales is not perfect, since physical video game sales haven't collapsed anywhere close to the extent that record sales had before their recent resurgence. That said, nostalgia is definitely a thing in gaming.
Schachter says strength in sales tied to older consoles has a lot to do with pricing. Newer consoles such as Xbox One and Sony's PS4 cost around $400. Discounts on older games and older consoles "might have brought new buyers into the market that didn't exist before," EA's CFO, Blake Jorgensen, told the Wall Street Journal.
Nevertheless, analysts expect EA's digital revenue to overtake packaged goods revenue at some point this fiscal year.