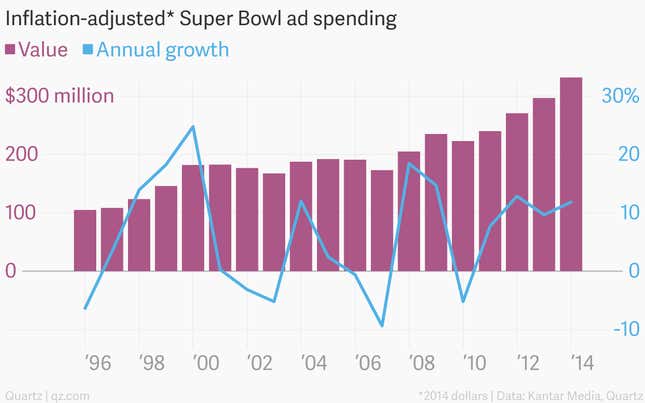 You can buy a lot with $4.5 million. Whether it's wise to spend it all on a 30-second commercial during the Super Bowl is up for debate.
Broadcaster NBC is expected to generate some $360 million in ad revenue during this year's big game, from a mix of carmakers, beer companies, snack purveyors, and tech firms. (And the government of Ecuador.) Advertising during major sporting events is one of the last remaining opportunities for brands to reach huge audiences, which explains the spiraling cost of commercials—the inflation-adjusted value of ad spending has risen by double-digit percentages for the past three years, according to Kantar Media.
The game is also a good gauge of the health—or hubris—of various industries, as judged by their willingness to splurge on pricey commercials during breaks in play. This year, the signs are that car companies are bit less bullish, while tech companies splash out—no fewer than three web domain firms have bought ad time.