On Feb. 4 last year, internet users could for the first time have some fun with their website domain names. For decades, the web had been restricted to handful of top-level domain names (TLDs), such as the .com in qz.com. But in 2014, website registrants could start using the first of hundreds of new names that supposedly would come to populate the web.

The first of the lot were in Arabic, Russian, and Chinese—a nod to the increasingly global make-up of web users—but quickly grew to include everything from .guru to .social, spreading everywhere from .berlin to .tokyo. There are now 472 new TLDs, 300 of which are available for public registration.
It was meant to be the start of a revolution. No longer would web users be restricted by the scarcity of good .com names. No more would law firms have to call themselves "Shpoonkle" just to be able to register a domain name. New domains would democratize the web and create choice. It would be a whole new world (wide web)!
Alas, no
A year down the line, the revolution seems to have fizzled out. The hundreds of new TLDs combined have managed only 4.1 million registrations in the year since the launch. Many of the new websites don't actually seem to have anything on them. In contrast, .com and .net raked up nearly 26 million new domain registrations in the first nine months of 2014 alone.
But it would be wrong to write off the new TLDs so early in the game, according to Richard Tindal, a co-founder and operations head of Donuts. Formed expressly to make a business of new TLDs, Donuts applied for more than 300 names and has so far been granted about half that amount. It's slogan is "We are nuts about domain names. We are Donuts."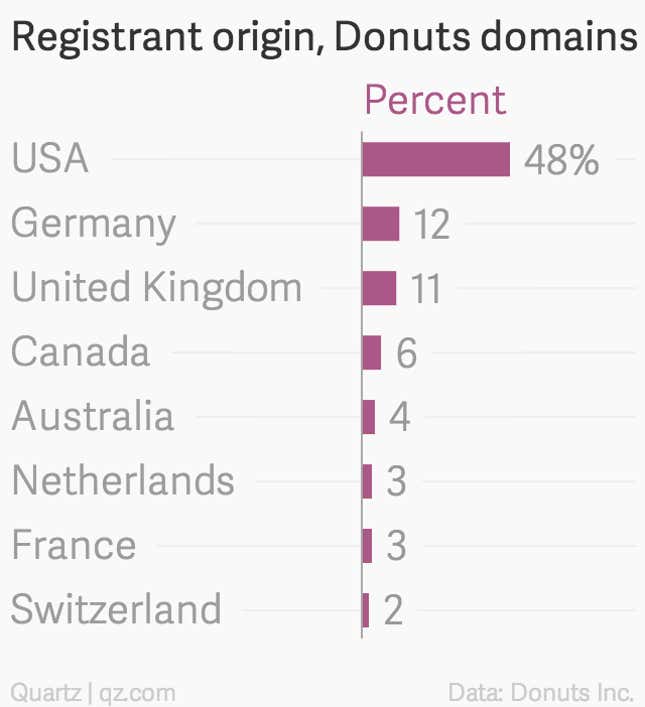 "We're very pleased with the sort of uptake we've got," says Tindal. The new domains, which are much more expensive than .com or .net registrations, already account for 10% of the spending on new registrations, he says, and that's with relatively low levels of marketing or general awareness.
"We're seeing the type of buyers we wanted; more than half the registrations are coming from outside the US, and are predominantly small businesses," he says. That makes sense. Businesses with existing websites are unlike to change their addresses. And more new users and businesses are coming from outside America than within it. Donuts, like the new TLDs industry is general, is betting on the future. "This is a long-term play for us," says Tindal. "We have a long and steady growth business model." (ICANN, the body that administers the process of allotting new domain names, has also argued that this is a medium- to long-term project.)
Going mainstream
The tipping point will come when domain names with some of the strongest potential, such as .news, .app, and .music, get released (those are expected to be released in the second half of this year, and probably will drive the volume of registrations, reckons Tindal) and when big commercial players such as Google and Amazon start putting their marketing muscle behind the new TLDs they have won.
None of this will happen overnight. "We're talking about huge corporations that have very complex decision making processes," says Tindal. But in the next few months, the long-awaited revolution may just reignite.