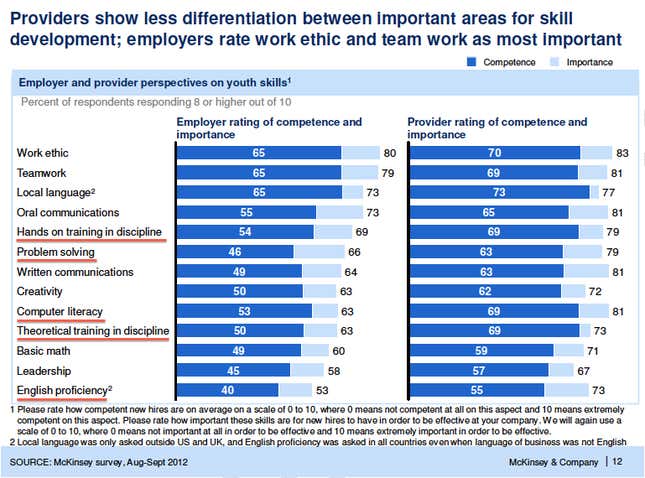 Young people are having trouble finding new jobs. Employers are having trouble finding properly-trained employees. It's a global problem, and both policy-makers and educators seem somewhat perplexed about the disconnect.
Unfortunately, part of this disconnect may be generated by teachers. McKinsey & Co. finds that teachers—or in this graphic, "education providers"—around the world systematically overestimate their students' skills (right graph) compared with how employers rate them (left graph).
While teachers more or less understood which skills employers would value, they had overly rosy view of how well their students had mastered those skills pretty much across the board. In particular, educators think their students are significantly better at problem-solving and more computer literate than potential employers do, and that they have far more hands-on and theoretical training when they graduate from a post-secondary school. McKinsey found that, of the nine countries it surveyed, the disconnect was strongest in Mexico and Brazil, though also significant in the US and Morocco.
Admittedly, these data are just a piece of the puzzle. Nonetheless, they suggest that educators who want to help their students get jobs in a global economy might need to be more demanding when they assess them.