Most people have by now forgotten about Ship Your Enemies Glitter, a business that sent an envelope full of glitter and was for a few days in January featured by seemingly every news outlet on the web (including this one). The website's owner later said the business was a stunt to drum up traffic (though, confusingly, one that delivered on its promise). Everyone moved on.
Everyone, that is, apart from domainers, the people who buy and sell internet domain names for a living. The site went live on Jan. 12 and was posted to Product Hunt, a startup-listing website, on Jan. 13. Online news media started writing about Ship Your Enemies Glitter the same day, and domainers took notice.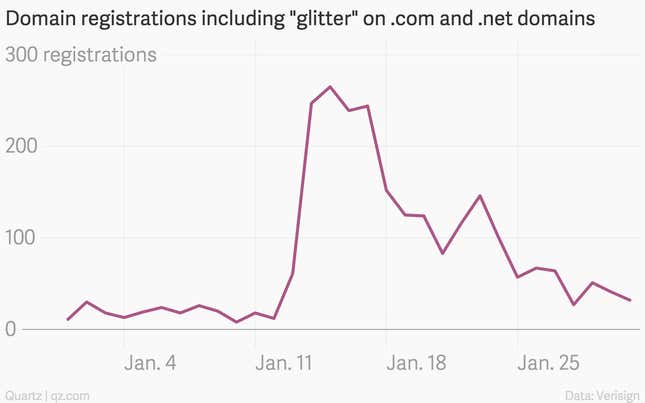 There were enough new registrations in the the next few days for the word "glitter" to become one of the top three keywords used in new domain registrations on .com websites. The list is compiled by Verisign, which runs .com and .net, and publishes a monthly list similar to Twitter's "trending topics." (In 2013, for example, in the midst of the great bitcoin boom, worries about a US government shutdown, and the birth of the royal baby in the United Kingdom, there were massive spikes in domain-name registrations with the words "bitcoin," "shutdown," and "prince.")
Here's a sampling of some of the glitter site's copycat domain names. None of them are particularly original—though it is instructive just how many ways there are to misspell "shipyourenemiesglitter."
Except for www.gotyouwithglitter.com, the ones we tried visiting didn't work. For domainers, that doesn't matter too much; registrations on the .com and .net domains are cheap enough to buy throwaway websites just in case there's something there. But it is another example of the speed with which domainers, like the press, jump on new ideas.