ESPN has launched a new mobile app, and it is called…ESPN.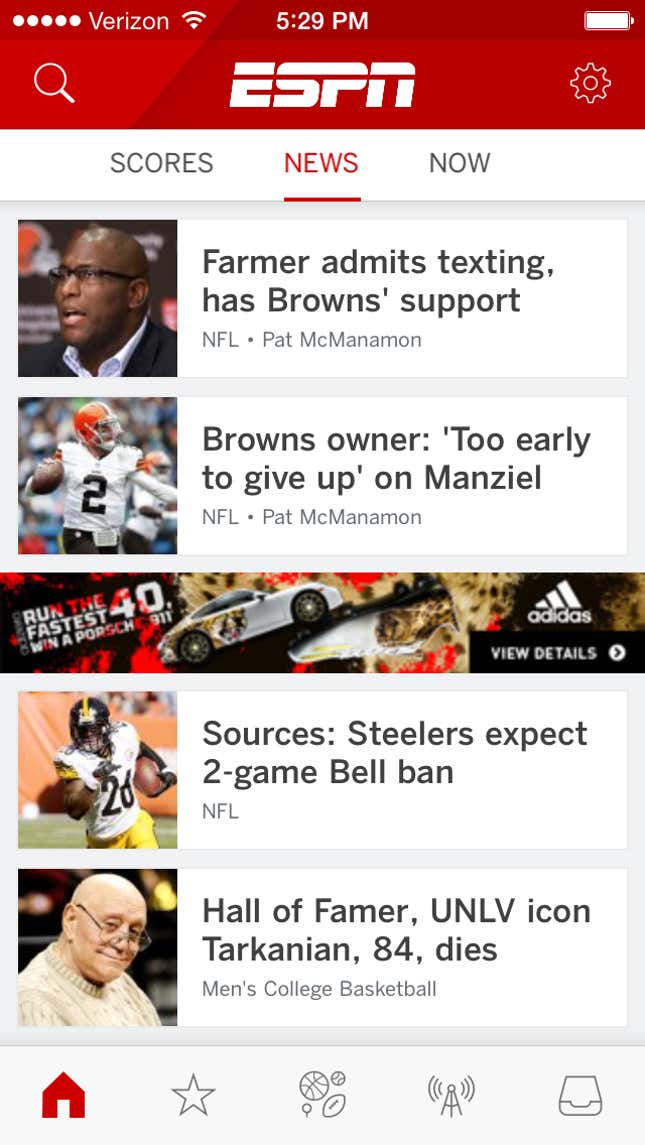 The app is basically a refresh of the giant sports network's existing SportsCenter app (one blogger described that as a "flaming pile of garbage") which was released about a year ago to replace ScoreCenter, ESPNs first app dating back to 2009.
The update and rebrand is part of a broader overhaul of all of ESPNs digital properties to coincide with the 20th anniversary of its website this year. In April, an update to espn.com is coming, making the site much more consistent with the new mobile app. "I want all of our experiences [to be] just ESPN," the sports behemoth's head of product Ryan Spoon tells Quartz. "To feel the same, look the same, be intuitive. When you start to use the iPad I don't want you to feel like, 'where am I?'".
The new app includes a bunch of improved features, including a curated feed of news and relevant information from social media, shareable video clips and the ability to click through to all of ESPNs linear video content. (You will still need authentication from a cable subscription to actually watch it though). It aims to encourage people to log in and create more personalized experiences.
The iOS version is universal, meaning it finally works properly on iPads, as well as iPhones. The Android version will initially only work on handsets although an update for tablets shouldn't be too far away.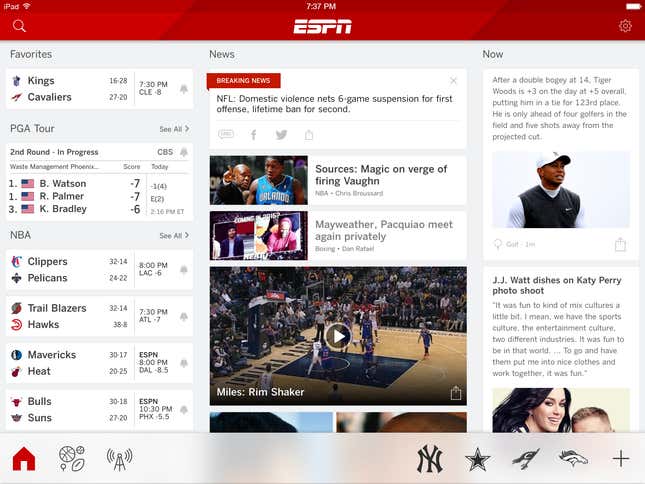 It is interesting (at least to those of us who work in media) that ESPN is investing in its homepage/website and in its tablet app, platforms that some people think are in decline. Audiences are increasingly shifting to social networks such as Facebook, and iPad sales are clearly dwindling.
ESPN evidently sees things differently, but that might be because it's so huge, with its digital properties averaging 76.8 million monthly unique visitors in the US last year.  "I don't think the concept of these things [homepages] is dead," says Spoon."But the concept of where they start and end is changing."
To this end, ESPN is one of a dozen participants in one of the most interesting experiments in media at the moment, namely Snapchat's new Discover platform. Unlike posting content to Facebook or Twitter (but admittedly a bit like YouTube) Snapchat's media partners for Discover get no referral traffic back to their own websites from the product.  "I don't think they are going to be something important," says Spoon of Snapchat. "They are something important."
A product like Discover, and rumors that Facebook wants to host publishers content, arguably point to a future where it's not just the homepage that's dead, but also the website, as content companies generate content for other people's applications and live off commissions.
But this is clearly not the future ESPN envisages.