Android Wear may have been first out of the gate in the smart watch race, but only 720,000 Wear devices were shipped in 2014, a report from research firm Canalys said Feb. 11. That's about 15% of all the 4.6 million smart wearables that Canalys calculates were shipped in 2014.
With the Apple Watch set to launch in April, it's likely that the smart watch landscape will look drastically different in 2015. JP Morgan forecast that Apple will sell 26 million of its watches in 2015, although a recent Quartz survey found that only about 5% of US iPhone owners say they're very likely to buy one, which seems to suggest JP Morgan's forecast may be somewhat optimistic.
Either way, it likely won't take long for the Apple Watch to catch up to Android. In fact, it could surpass Android Wear in a matter of days—Apple sold 10 million iPhone 6 and 6 Pluses in the first three days they went on sale.
But don't count Android out yet. Roughly 1 billion Android smartphones were shipped in 2014, dwarfing the 192 million Apple phones shipped over the same period, according to Strategy Analytics. While 720,000 watches may have been a modest debut for Android Wear, it still has time and room to improve. Part of the reason Android has proven to be such a successful mobile platform is its malleability—it's suited to life on a $30 smartphone or a $500 tablet as much as it is on a television or a vending machine. Android Wear simply needs to find the hardware that will demonstrate its utility. There is certainly demand for a useful product: The chunky, monochrome-screened Pebble smart watch series has shipped more watches than all of Android Wear watches combined—Canalys said it has shipped over a million units since the start of 2013.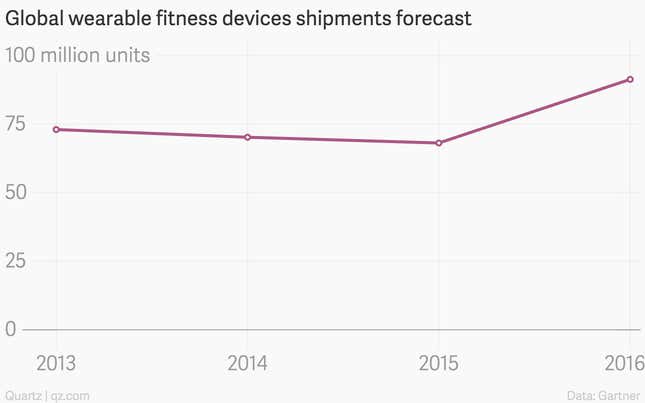 It's also worth noting that smart watches account for only a small portion of the entire wearable device market. In November, Gartner forecast that roughly 70 million fitness-related wearables—from step trackers like the Jawbone UP to chest strap heart rate monitors—would be shipped in 2014. That would give Android Wear about a 1% share of the entire wearable market, and that's assuming all Wear devices were being bought for fitness purposes, which they weren't. Things can only really go up from here.