In Silicon Valley, where there's a constant battle for talent, companies big and small are welcoming employees with open arms—and maybe also a bottle of booze.
Tech companies take a sense of pride in doing things differently, and the same applies to the first day of work. Fun rituals and perks can reinforce a company's culture, but they can also help fight churn, a costly problem for any business. We surveyed dozens of tech companies to learn about the more unusual aspects of their orientation programs.
Swag, swag, swag
Everyone loves free stuff. At Chubbies Shorts, an e-commerce startup that sells shorts to bros, newbies are encouraged to raid the warehouse and get decked out in the company uniform. "Shorts on shorts on shorts," says a company rep. To match the bottom half of their outfits, new hires are also encouraged to pick up other gear not sold on the Chubbies online store, such as sweatshirts, hats, sunglasses and bags.
Teespring, a crowdfunding platform for custom T-shirts, hands new employees a special shirt with "Free Fish Co" adorned on the front. It's a reminder of the company's humble beginnings: The founders, who were students at Brown University, created a similar T-shirt in 2011 to commemorate the closing of a local dive bar.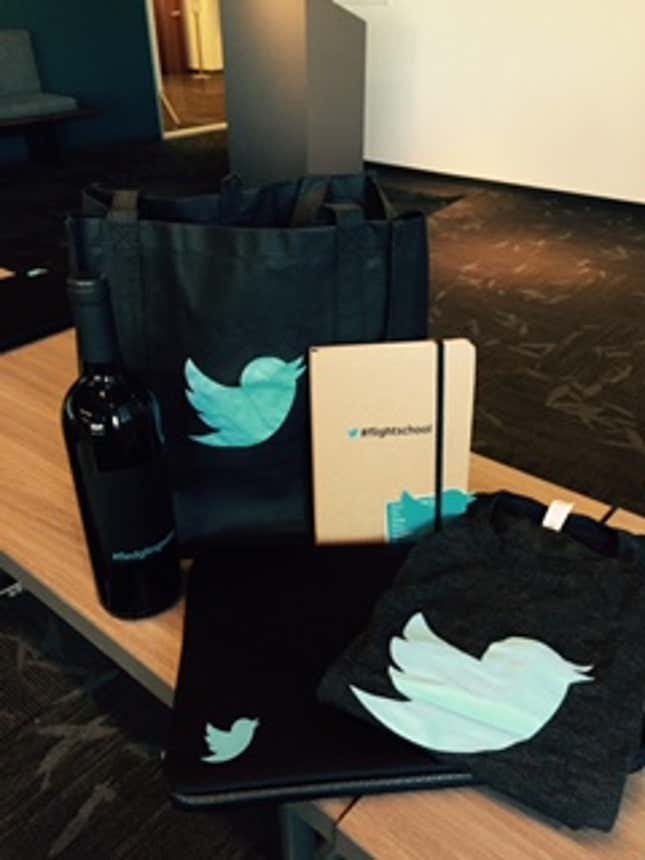 Freebies aren't just fun: They also connect employees with the very product they're working on. Fashion startup Polyvore hands new employees a $100 gift card to spend on the site, so they can get acquainted with how its users find and buy items. Similarly, video technology company Clearleap gives new employees a Roku media player. "It's great to be part of a tech company that is changing how we watch TV, but it's also fun to enjoy your hard work pay off as a viewer," according to a spokesperson.
Alcohol is also a winner. The swag bag at Twitter includes a bottle of wine with company branding (as well as a tote bag, T-shirt, laptop sleeve, and notebook). Opower, an energy data company, gives new employees a bottle of champagne to save for a special occasion: when the company is acquired or goes public, or when it helps reduce carbon emissions by 1% in the US. Because the company went public last April, Opower gave everyone another bottle. "It's a reminder that although we achieved one of those goals, we still have a long way to go to reach the second," says a representative.
Getting your hands dirty
For companies that run marketplaces, what better way to get employees up to speed than by putting them in the users' shoes?
At Homejoy, a marketplace for finding housecleaners, all new hires—including software engineers and execs—are expected to roll up their sleeves and scrub toilets. The initiation ritual was inspired by CEO Adora Cheung's short stint as a housecleaner before she launched the startup with her brother. Employees are required to go on and pass test cleans—the same tests that all cleaners have to go through to get on Homejoy's platform.
Similarly, Postmates, a marketplace for couriers, makes its full-time employees across all departments go through courier training. "We all go through orientation and are encouraged to make as many deliveries as we can," according to a company spokesperson.
At Dyson, which makes high-end vacuums, fans, and hand dryers, an engineer leads a class for new hires on taking apart and reassembling vacuum parts. "By taking apart the cleaner head,", says a representative, "Dyson people are challenged to ask themselves the following questions: What features enhance the performance of the machine? Why have we chosen to fix parts in a particular way? What were the reasons for choosing a particular material? Which technology is used in other products? How do you think the machine was manufactured?" Employees have about 45 minute for the exercise, and the rep says "failure is accepted," so long as they try.
A trip to headquarters
All new hires at audio hosting company SoundCloud are flown to its headquarters in Berlin. The point of the sojourn is to have them learn more about the city, company culture, and the Factory, a 170,000-square-foot tech hub that's now home to SoundCloud and other startups. For those relocating to Germany, the company also sets them up with a local guide whose services include airport pickup, translation assistance, and help with paperwork.
Data company Qlik also flies all employees to its headquarters in Lund, Sweden to attend a program called Qlik Academy, which teaches employees about the history and culture of the company and its homeland.
Back to school
Some companies are known for hosting elaborate orientation programs that are like being back in the classroom. Facebook runs a six-week-long bootcamp to acquaint new engineers with all parts of its code base.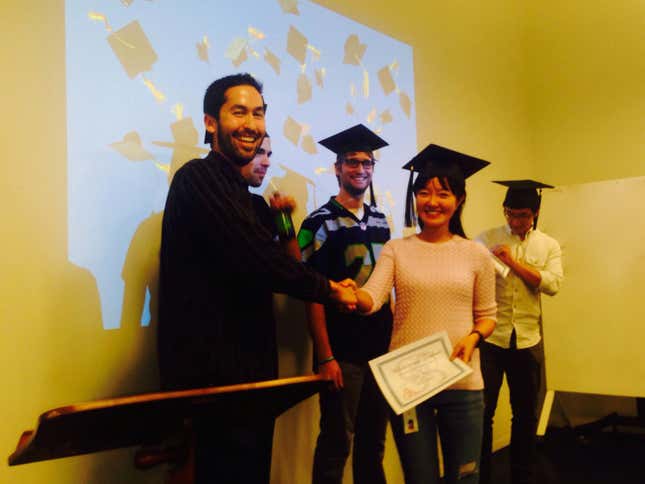 Airbnb's program for engineers runs three weeks, getting them up to speed with culture and code. The bootcamp also helps new hires decide which of the 12 engineering teams they ultimately want to join. At the end, the company also hosts a mini-graduation ceremony complete with mortarboards tossed in the air.
Pinterest's program, Basecamp, pairs new engineering hires with more experienced members of the team to work through challenges. Like with Airbnb, the program helps engineers decide which team to join.
Twitter hosts what it calls Flight School, a weeklong orientation that's more focused on getting employees jazzed up about working for the company than taking care of logistics. (There's another program specifically for engineers as well.) The program lasts a week, starting every Monday at its San Francisco headquarters. Through a number of talks, CEO Dick Costolo and his lieutenants get employees pumped up about why it's an exciting time to join the company. The first day usually includes a group lunch and ends with with cookies, cupcakes, and champagne. For the next two to three days, employees are broken out in groups specific to their team. On Friday, the entire class meets together again for one last hurrah. "The new hires, they become a very close-knit group," says Kristine Crawford, a senior communication associate who runs Flight School. "A lot of people on their one-year anniversary go grab drinks."
At mobile rewards startup Belly, employees attend a weeklong program called Belly U at its Chicago headquarters to learn about company history and culture. Unsurprisingly, nights on the town typically happen at venues that have opted into Belly's rewards program, which uses an app to replace loyalty cards. "Everybody who is here, they feel they are part of this culture and Chicago tech scene," says chief operating officer Julio Bruno. Sales folks—many of whom are new to the workforce—have another week of training specific to their local markets.
At ZestFinance, an underwriting company that helps lenders assess credit risk, all new hires go through Zest U, where fellow employees teach newcomers about the company's business, technology, and culture. Adding to that, new employees are given a starter project to help them develop the skills needed in their roles. "We assume it will take up to a quarter before you are really adding value, and so we focus a lot of time in your first few months on learning," according to a spokesperson.
Hit the ground running
Some companies want employees to start contributing on day one. During the first day of Airbnb's bootcamp, engineers are encouraged to push code directly to the website. "We want to show people, 'Hey, right away you're creating impact, pushing your code to millions of users,'" says engineering manager Jason Bosinoff.
It's a similar story with analytics company New Relic. "We want them to contribute immediately and make a real impact from the get-go," says a company representative. Crafts marketplace Etsy has new engineers deploy code to add their photos to the company website. (Non-technical employees are also trained to push code in their second week.)
At ad firm engage:BDR, the process begins even earlier: during the interview stage. The company asks job candidates to develop a plan for their first 90 days at the company. "This action plan is the new employees' onboarding roadmap," says HR director Wetzel.
Unsurprisingly, the first thing new employees do at Slack, a fast-growing startup that makes a chat tool for corporations, is get acquainted with the service. They're encouraged to read the chat history in channels relevant to them. "That gives them a good sense of what's going on now, where various projects are at, what the priorities are—that kind of thing," says CEO Stewart Butterfield. "They can quickly pick up on subtle aspects of the culture, the norms for communication, who knows the answers to what kinds of questions and who really makes the decisions—that kind of soft knowledge which can take a very long time to absorb when you start at a new place."
Breaking the ice
Most offices use team lunches, happy hours, or all-hands meetings to break the ice and introduce their newest staff. (Our survey suggests that the game "tell two truths and a lie" is very popular.) Some companies, however, prefer less rote rituals.
Twitch, a company that broadcasts live video-game play online, has new employees record videos introducing themselves. The videos are shown at the company's weekly town-hall meetings. At Jobvite, new employees are surprised with a flurry of balloons tied to their desks. They're also encouraged to bring in treats for "rookie cookies," an excuse for existing employees to drop by for a snack, introduce themselves, and chit chat.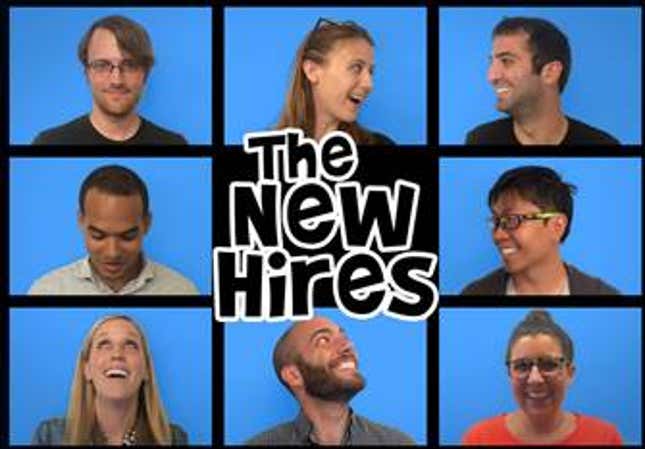 At Pinterest, every new hire class takes a group photo centered on a theme (eg. The Brady Bunch) that's included in the company yearbook. Every other Friday, each new class is responsible for decking out the office with a certain theme (one recent one included "hellastorm," for the Bay Area's freak weather back in December), starting with a companywide breakfast and ending with a happy hour where the hires are introduced.
To help employees bond, online retailer Zazzle organizes an in-office scavenger hunt where new hires zip around departments to find answers to clues. Shopify, which provides an e-commerce platform for businesses, takes its hunt online. The company scatters virtual Easter eggs on its internal website for employees, and the new employee who finds the most Easter eggs at the end of two weeks wins a prize. Zendesk welcomes new hires by taking them out of the office to work on neighborhood community service projects.
Video conferencing company Highfive puts new hires up to different challenges, such as having a sales rep sell a product to people on the street. And as if that's not enough pressure, the last person to go through orientation is also the one who helps welcome the next employee—both events occasionally occur on the same week.
"I truly believe that onboarding is an art," says Sarah Wetzel, director of human resources at digital ad firm engage:BDR. "Each new employee brings with them a potential to achieve and succeed. To lose the energy of a new hire through poor onboarding is an opportunity lost."