It's a happy holiday season for Prada. Nine-month net profits surged 50% from the same period last year to €409 million ($536 million). Sales for the Italian fashion company jumped 35% to €2.3 billion, and it has opened 63 new stores in the last 12 months. Applauding the company's efforts, Patrizio Bertelli, its chief executive, said: "The Prada Group has again shown that it has the necessary ability and spirit of initiative to generate positive results, even in the difficult current international economic climate."
Ability and spirit of initiative are lovely things to have, of course. But actually the current international economic climate is rather helpful to luxury brands like Prada. As the chart below shows, their forward earnings estimates (i.e., how much they expect to make in the next 12 months) have been growing steadily all year.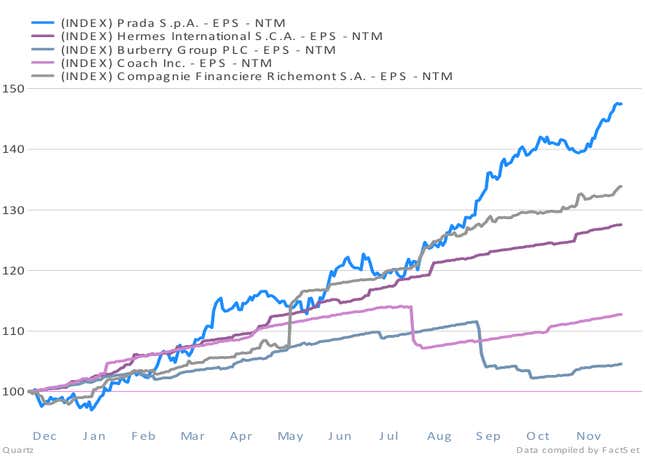 This is largely because of three trends:
Chinese consumers still want expensive things. Luxury-goods companies are still showing promising growth in Asia, which makes up an increasing part of their businesses. Hermés, the French maker of pricy silk scarves, beat third-quarter sales estimates and raised growth targets for the year on surging Asian demand. Meanwhile, Geneva-based watchmaker Richemont reported on Nov. 9 that its six-month profits rose 53%, while operating margin widened 1.5% to a record 27%. Asia made up 51% of the company's sales in 2012, according to Bloomberg. For Prada, sales in the Asia Pacific region grew 41%, outpacing every other region.
Rich people everywhere still have money to burn. Prada's success, as well as those of other top-tier luxury brands, suggests that while so-so rich people may be cutting back spending, the über-rich are not. A new Gallup poll says that American households earning more than $90,000 a year have cut discretionary spending since early September. But higher up the ladder, luxury spending continues. A survey out last week from the Luxury Institute in New York of the top 10% of earners said that despite the economic slowdown, 43% of Chinese households with minimum incomes of $150,000 expect to spend more on luxury goods this coming year, with 10% of Japanese, and 9% of American consumers saying the same. Wealthy Americans surveyed said they planned to increase spending in every luxury category, compared to last year, including jewelry, private jet travel, and yachting.
Consumers are buying either cheap products or the most expensive. At least that's what motorcycle maker Moto Guzzi is seeing. The Italian company, owned by Piaggio, last month unveiled a top-of-the-line bike based on ones made for the California Highway Patrol in the 1970s. It seems a strange time to release a pricey bike (it retails for £15,900 in the UK), but Daniele Torresan, a spokesman for the company, says it makes perfect sense. These days, there's demand for "expensive products, and also for very cheap products," he says. "It's very hard to sell to middle class customers."
Prada's numbers suggest the same thing. Leather goods, which make up its priciest products, grew by 51%, and now account for 63% of consolidated sales. Clothing and footwear, which cost less, went up by only 15%. Similarly, sales of goods that carry Prada's own label, such as bags that cost at least €1,000 or so, increased 39% over the nine months, while its lower-end Car Shoe brand (shoes start at €280) saw less than half as much growth, at 15%.