Nike and the Japanese fashion label Sacai are working on an eight-piece womenswear collection that will include sneakers, Business of Fashion revealed this morning.
It's a match made in athleisure-heaven and should be good for both brands. Sacai is a fashion industry favorite, counting Chanel designer Karl Lagerfeld and editors Anna Wintour and Suzy Menkes among its influential admirers. But it's still a relatively small label, and working with Nike is guaranteed to increase its profile.
For Nike, which already dominates the performance sneaker market, the collaboration is the latest in a series of efforts to step up its fashion portfolio and make a play for the women's activewear market.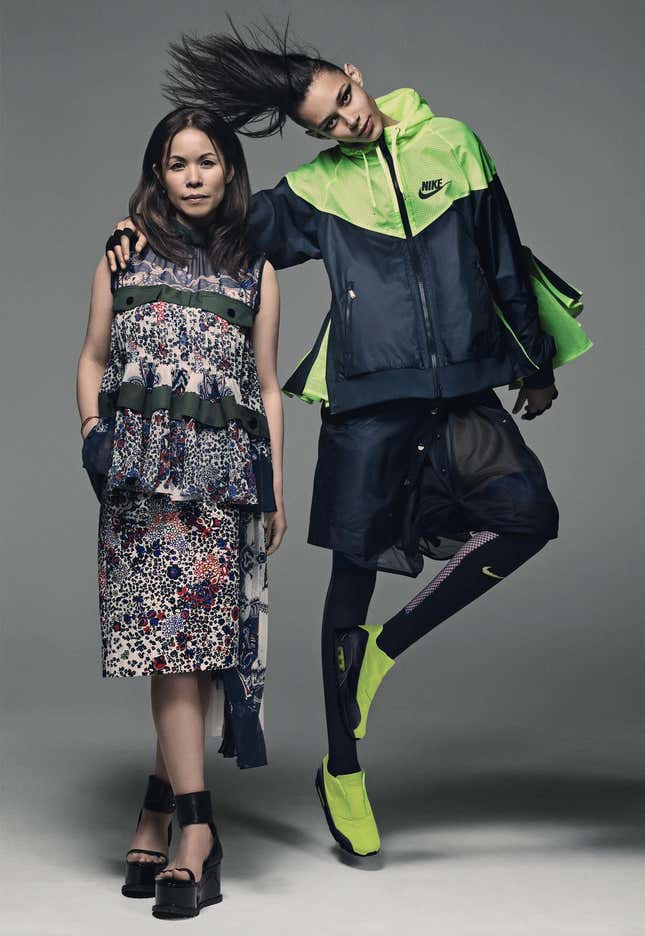 Chitose Abe, the founder and creative director of Sacai, is known for using innovative materials and blending disparate elements, such as tech fabrics and heavy wools, into unexpected, elegant combinations. For the capsule collection, she's been mining Nike's archives and doing some creative repurposing, such as fashioning Nike's nylon Windrunner jacket into a paneled skirt. It's the sort of imaginative work you would expect from a designer who previously served under the fashion legends Junya Watanabe and Rei Kawakubo of Comme des Garçons.
"Working with traditional silhouettes and ideas that often come from utility or performance-based sportswear, I'm interested in creating new hybrids that combine different fabrics and shapes to create an unexpected yet wearable result," Abe said in a press release announcing the collaboration.
Interestingly, Abe's husband, Junichi Abe, the founder and designer behind the label Kolor, just inked a deal with Nike's rival, Adidas, to do a similar collection of apparel and sneakers, but for men. That should make for some interesting dinner table conversation.