Beijing's brief moment as a beautiful ghost town did not last long. Millions of residents left town to celebrate the Lunar New Year with their families, but millions also stayed. And last night, on the eve of the holiday, they lit off fireworks—lots and lots of fireworks.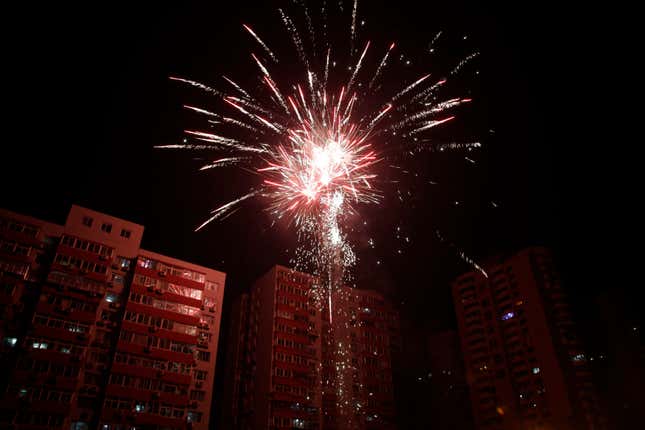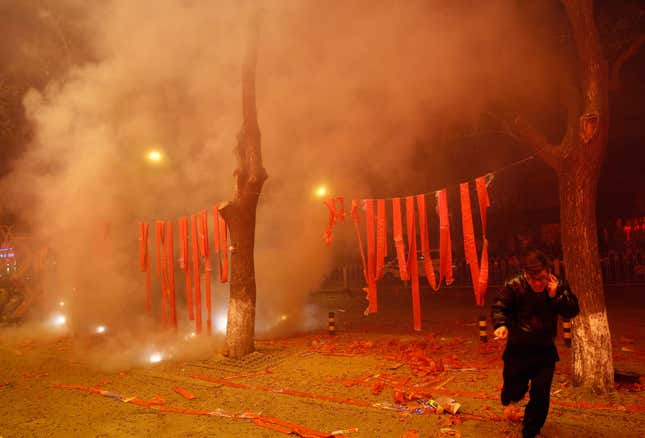 The pyrotechnic frenzy had a dramatic effect on the city's air quality. All day Wednesday, according to the US embassy's air monitoring station, the city's air quality index (AQI) had been hovering around 50, considered "good." But around 8pm, the fireworks started: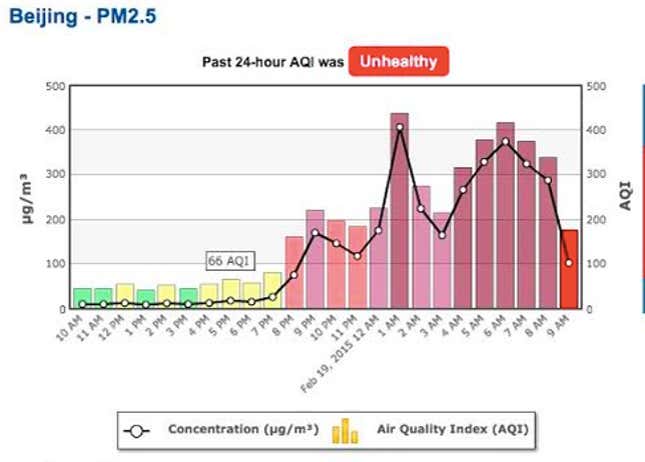 By 1am, the AQI was above 400, well into "hazardous" territory.
China has been trying to get a handle on the pollution caused by holiday fireworks for some time, with 138 cities banning them nationwide. But the chronically polluted capital hasn't passed an outright ban, instead choosing to reduce the number of fireworks shops, and the time during which they operate.
Beijing's explosive celebration will be particularly hard on everyone's lungs this year because of the weather, which is predicted to be windless from Wednesday through Friday. "The fireworks will generate a huge amount of pollution in a short time, increasing the density of sulfur dioxide and PM2.5, the major airborne pollutants," Li Yunting, director in charge of air quality at the Beijing Environmental Monitoring Center, told the state-run China Daily.
PM2.5 refers to airborne particles smaller than 2.5 microns in diameter, which are particularly harmful because they can penetrate the bloodstream.
At least one enterprising manufacturer is capitalizing on the conditions with a Chinese New Year Sale on air filters.