On a frigid afternoon smack in the middle of New York Fashion Week, I climbed three sets of rickety wooden stairs to where the label Eckhaus Latta would be presenting its fall/winter 2015 collection.
I climbed those steps with curiosity—a growing buzz surrounds the work of the New York and Los Angeles-based design duo Mike Eckhaus and Zoe Latta—but also with a hint of trepidation. My memories of their show last season included models crouched and piled together in a slow-motion group embrace, and a runway strewn with lettuce leaves. Some cool sky-blue denim and a mustard-colored dress stayed with me, but also at least one pants-less model who wore knee socks painted (literally) onto his hairy legs. I left with the distinct feeling that I didn't get it. I could see that something was happening, but I wasn't quite sure what it was.
But this season's show was different.
I entered a dilapidated Soho loft, lit by a wall of windows awash in afternoon winter sun. Show-goers in many layers of clothing huddled around a T-shaped runway, indicated only by some tape on the floor. No chairs, no risers, no front-row celebrities. I tucked myself into the crowd.
I'm not sure whether it was the keyboards or the singing that started first, but a choir of cooing female voices rose up from the crowd, and a dreamy melody (created by Devonté Hynes, aka Blood Orange) floated over us.
A beautiful singing woman with a head full of curls and a mic pack in the back pocket of her blue jeans stood directly across the runway from me. I could only make out a few words: feeling, comfortable, surroundings. I've since learned that she was singing, again and again, "feeling the comfort of sadness in a new set of surroundings."
I was feeling a bit melancholy myself, and it felt nice to be bundled into the crowd, taking in the music and watching the runway.
The bass kicked in, and the melody became a song—Was someone playing a saxophone?—and the models began to walk out. There were maroon cutout sweaters, cropped grey pants, a mauve pullover shirtdress.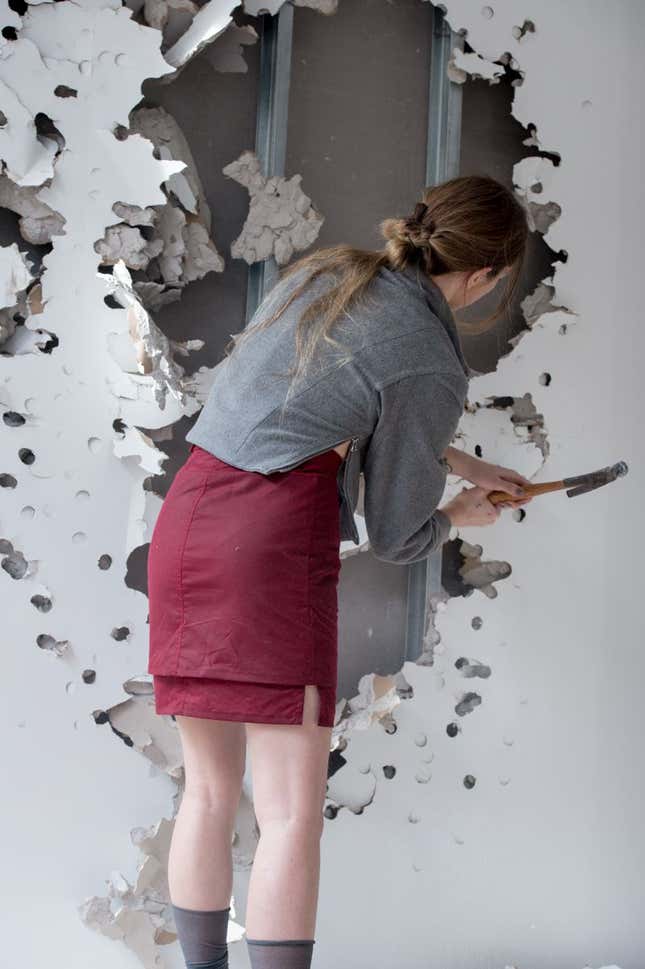 After she walked the runway, a model in a grey pullover with zippers at the neck and sides picked up a hammer and began to bang it against a wall, keeping the rhythm of the song. Soon, a dent appeared, and not long after, a hole. As the models continued their casual march, the grey-shirted model occasionally struggled to free the hammer from the wall, taking chunks of drywall out with it. The dust lit up in sunbeams, and the singing continued.
Then, a male model emerged wearing a floor-sweeping cape that was cropped in the front to expose his belly button. It dipped at the sides, sweeping the floor behind him. From the front it looked tattered, in a beloved, Velveteen-Rabbit sort of way. The back was woven of wide shreds of dusty pastel and grey fabric, with big printed roses at the sides. It looked like a garment a child might fashion himself from an old comforter or flannel-lined sleeping bag. It was a little bit regal, a little bit nostalgic, and very beautiful.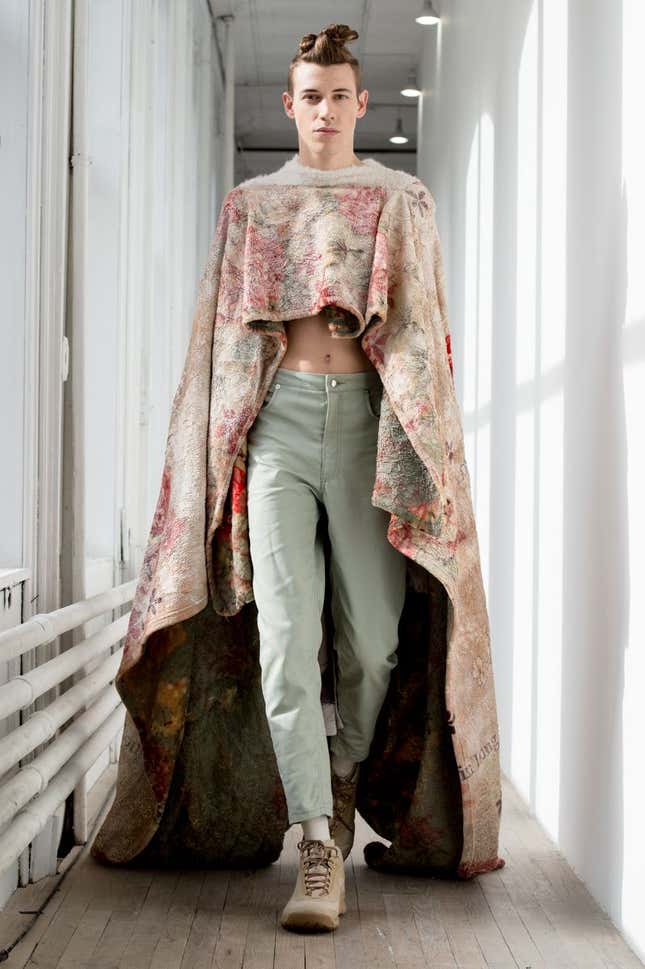 I left that day feeling rewarded for having shown up—much the way I feel after visiting a powerful art exhibit, or taking the trouble to see a great band play live. Just as the costumes help to complete a film, or lights can contribute to the impact of concert, the live performance contributed to the feeling of Eckhaus Latta's clothes.
I doubt I'll be wearing that magical blanket-cape anytime soon, but something about it reached me. It looked like an old comforter, and I actually felt comforted by it. It may not have been the most glamorous, fun, or accessible look of the week, but it had an ineffable force.
I suppose that's the thing with taking a step out with a creative presentation, and inviting people into a world that's a little offbeat, a little weird. Sometimes you reach people; sometimes you don't. Last season, Eckhaus Latta's show didn't do a lot for me personally, although I understood that the wider fashion community approved.
But this season, for whatever reason, it made me feel connected. And that's what great art does.