Snow, snow, and more snow. The overabundance of it has dominated the headlines the past few weeks. But while the recent bout of winter weather has painted the middle of the country and East coast in white, there is only a small area of the US that is truly getting pounded with snow. Yes, that's you coastal New England.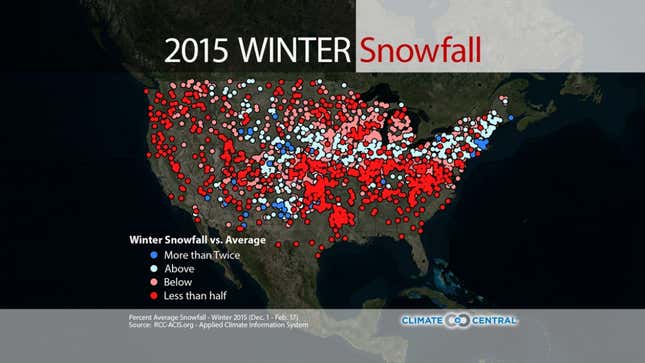 The graphic above shows the percentage of normal snowfall from December 1, the start of meteorological winter, through February 17. And it's no surprise that a number of locations in New England have seen more than twice their average snowfall to date. A few spots in the central plains and scattered locations from southern Arizona into the Texas Panhandle are also up there, although not on the level of Boston's snowy apocalypse.
In comparison, much of the country has had less snow than normal. There's a sharp cutoff between areas where storm systems have cut across the Upper Midwest and Northeast, dropping copious, or at least normal, amounts of snow—and areas they missed. That illustrates in part why it's so hard to forecast snow.
The biggest snow loser this year is the West Coast. Much like last year, if you were planning a ski vacation to the California, you might want to rethink it. Mt. Shasta Ski Park, Badger Pass and Mt. High are among a handful of resorts that are closed until the next storm arrives. Mt. High has a plucky, if slightly desperate plea on its snow report page: "Don't give up. We aren't!" It might be counting on Boston to send some of its 90-plus inches of snow, which is triple the snowfall of Mt. High and double what June Mountain, a resort that remains open in the southern Sierra Nevada mountains, has received.
The resorts that are open aren't a pretty site either, with patches of dirt replacing moguls as major obstacles, particularly at lower elevations. The snow drought extends north into Oregon and Washington. In the Olympic Peninsula located west of Seattle, only 3% of its average snow-water equivalent has fallen this winter—an important snow metric for water managers.
Compounding matters, downright hot weather has quickly melted much of the paltry snowpack in the western US. Temperatures have soared as high as the 60s (°F) in the mountains this week. That has eaten through snowpack, leaving 
 in southern Oregon, normally one of the snowiest places in the nation, with less snow on the ground than Boston according to 
of the Oregon Climate Service.
While ski resorts and tourist attractions have felt the pinch from the lack of snow, the real worry is what comes in April when snowpack usually melts and feeds reservoirs across the West.
This post originally appeared at Climate Central.